The 2017 SAVEUR Gift Guide: Stocking Stuffers for Everyone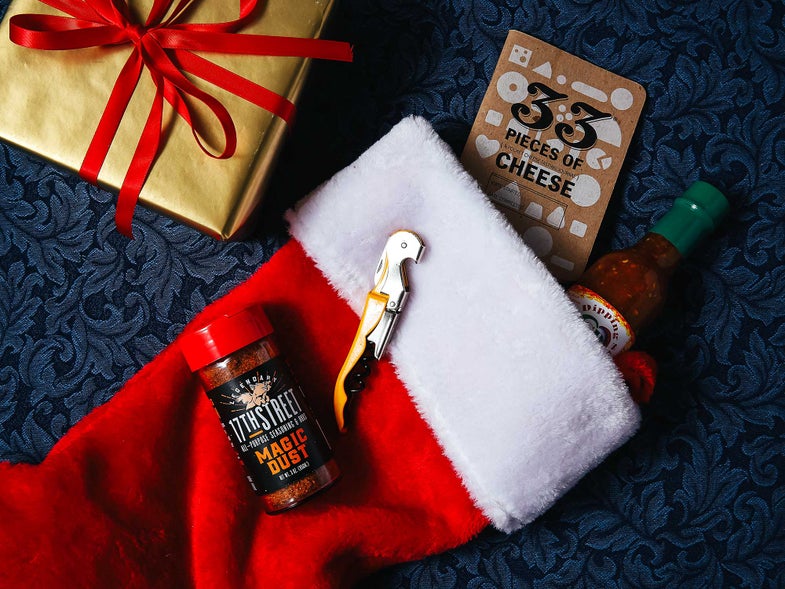 Ripping-hot Thai hot sauce, a Japanese kitchen tool for gorgeous garnishes, and taco earrings, of course. Here are the affordable gifts for everyone on your wish list.
This unassuming little workhorse is called a negi cutter, or, affectionately, a cat claw. It is the Japanese shortcut to curling scallions into pretty, delicate ribbons, and at $4.79 a pop, everyone we know is getting one for Christmas this year.
A demure concoction of lime juice, bird chiles, garlic, herbs, and sugar, this fiery dipping sauce is a taste of Thailand in a bottle. Consider it a remedy for every sticky-sweet pad Thai you've ever stumbled through, and give it to anyone who wants to add a lick of fresh, garlicky heat to just about everything. Creator Sutta Saraphum loves it on oysters.
These pocket-sized tasting journals from 33 Books Co. make clever litte gifts for all the curious eaters and drinkers in your life. They're perfect for recording observations at wine tastings and food festivals, or for bringing along on your next Scotch distillery tour. Bonus points for using 100% recycled paper using all U.S.-grown soy-based inks.
Even if you don't like tacos (which…how), you have to admire the craftsmanship in these earrings. There's shredded cheese, sour cream, tomato chunks, lettuce, and more, all crammed into a slab of clay you can balance on the tip of your finger.
A strong gift choice for cooks of all kinds. Pros will recognize it as a solid product from legendary pit master Mike Mills and his daughter Amy, and beginners will love that you can treat it as seasoned salt on everything. We recommend sprinkling some on the rim of your Christmas morning Bloody Mary.
Your Etsy-shopping, Pinterest-pinning, Insta-gramming friend will love this all-in-one miniature s'mores set that comes with marshmallows, milk chocolate, baby grahams, roasting sticks, and yes, a candle and matches for making baby s'mores wherever you are.
For hot sauce on your bag, swag worthy of Beyoncé. Perfect for Sriracha lovers who want to be ready wherever they go, just in case a boring meal needs a little spicing up.
The odds that you'll be able to impress the wine geek in your life with a bottle are low, but the odds that they'll be thrilled to get another Pulltap are very high. You can never have enough.