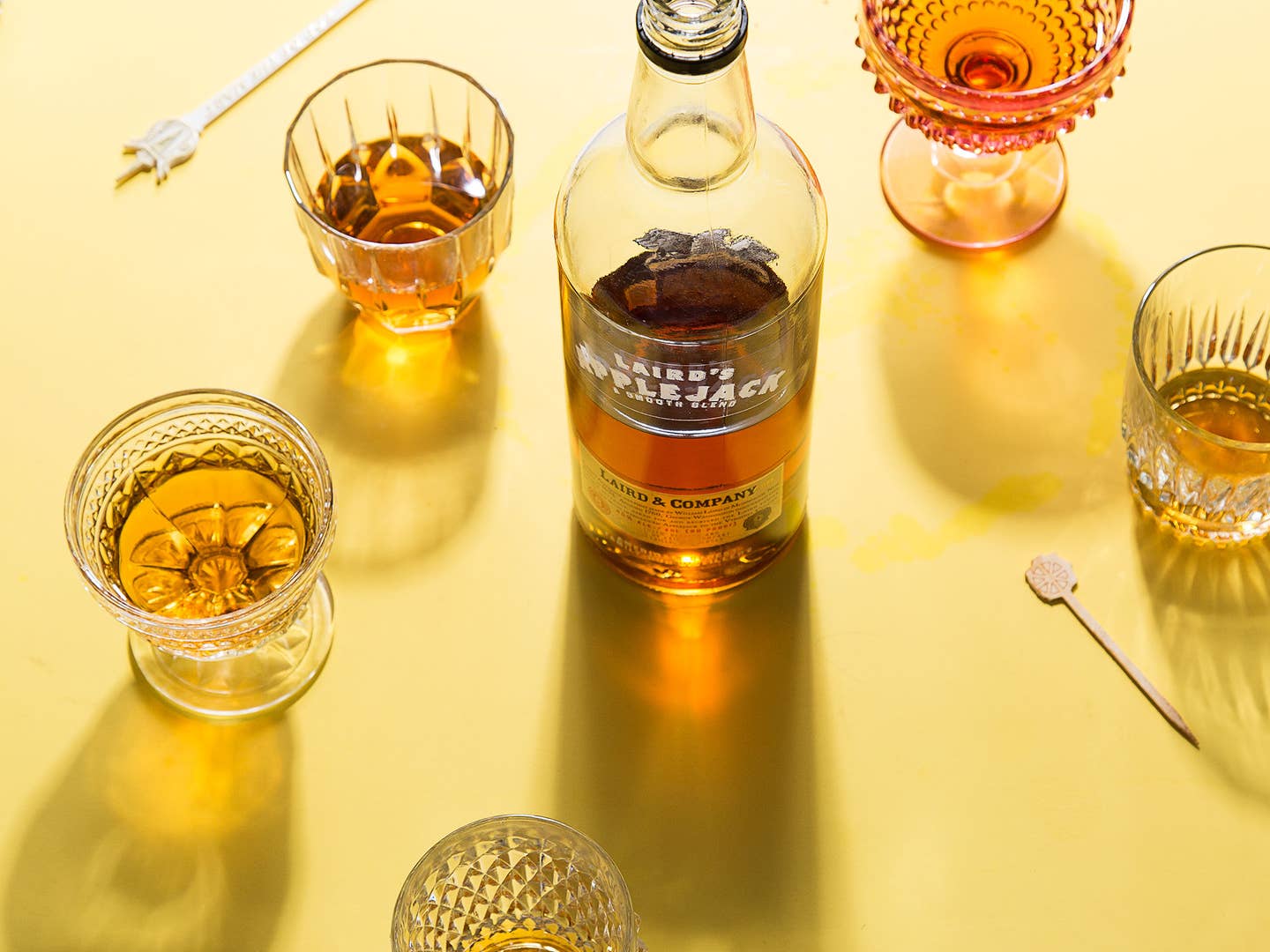 Drinks
How Applejack Became the Spirit of American Presidents
George Washington had the recipe, Abe Lincoln served it during his bartending days, and FDR splashed it into his martinis
Don Draper has rye whiskey, James Bond has the vodka martini, and George Washington, father of our country, had applejack. Considered by many to be America's oldest spirit, applejack owes its popularity mostly to a Scotsman, William Laird, who emigrated to the new world with two sons in 1698. After settling in what is now Monmouth County, New Jersey, he began making apple brandy and applejack ('apple brandy' and 'applejack' are used interchangeably—'blended' applejack is a blend of brandy and neutral grain spirits from corn to create an apple whiskey).
The seriously boozy spirit, called "cyder spirit," was so beloved that its recipe was requested by George Washington himself to supply the Revolutionary forces. Later, William's grandson, Robert, who fought in the Revolutionary War, would open the Laird family's distillery, which was also the first commercial distillery in the country. After learning how to make the spirit, president-to-be George Washington even sold some of his own making.
America's oldest distillery, the famed producer of applejack and apple brandy, has grown from obscure spirit holdout to bar cult icon
Later, in the 18th century, traveling preacher Johnny Appleseed brought the spirit to the masses of the Ohio River Valley as he undertook his legendary barefoot journey—spreading not only the gospel of Jesus Christ, but also of applejack. Around that same time, a young bartender named Abraham Lincoln was serving applejack in his Springfield, Illinois saloon, called Berry and Lincoln.
Though other presidential fans of applejack include Franklin Delano Roosevelt, who was known to splash it into a martini, and Lyndon B. Johnson, who presented a case of Laird's to then Soviet Premier Alexei Kosygin, these days, applejack's notoriety is most recognized in the bartending community—thanks in part to Pegu Club proprietor Audrey Saunders, who was one of the first to bring the stuff into her seminal bar. As for the Laird family, they're still producing their famed applejack, apple brandy, and a number of related products—including a moonshine-like distillate called Jersey Lightning. Ninth-generation owner Lisa Laird runs the family business, which remains one of the only producers of applejack, though there are several others on the market.
To celebrate Presidents' Day, we asked bartender Ray Allen Fritz of Porchlight in NYC to demonstrate his original applejack-apple brandy cocktail. Watch the above video to see how to make the Harvest Moon cocktail, a sour variation using Laird's apple brandy as the base.