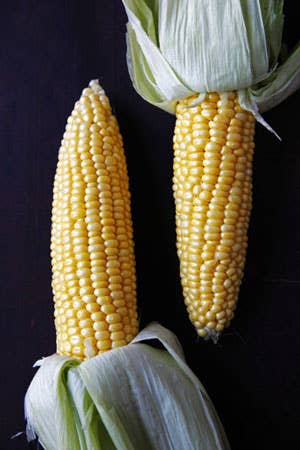 How do you eat your corn on the cob: in rows, in circles, or in haphazard bites? No matter how you approach it, there's nothing so sweet as freshly picked summer corn. Beginning in May in warmer climates, and through September in cooler ones, corn is harvested en masse across the country. Common yellow corn is the best-known variety; white corn is smaller, more tender, and sweeter; and bi-color corn is a hybrid of both white and yellow. Red corn, sometimes streaked with white, actually turns blue when boiled and maroon when roasted. Boiled and served with butter and salt, corn on the cob is the all-American summer side dish (herbed butter is a lovely accompaniment). Grill the ears in their husks for a nice smoky flavor. Sliced from the cob, fresh kernels are great in cold or warm salads or baked in corn bread.
Buy corn in the husk. Look for bright green husks, and check to see that the kernels are plump.
Refrigerate ears in husks in a plastic bag for up to a week. The sooner you eat it the better it'll taste.
When buying baby corn, look for green silks that are still sticky. Baby corn should be eaten within four days of purchase.
Check your local roadside farm stands, farmers' market, or grocery stores.