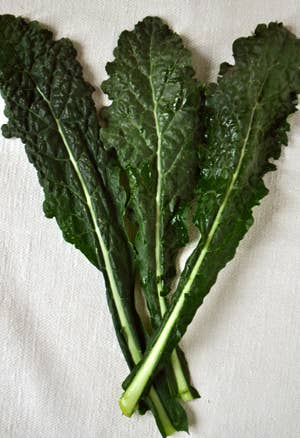 This European cabbage is popular in northern Europe and particularly in Scotland, where the phrase "to come to kail" was once an invitation to dinner, according to produce expert Elizabeth Schneider's book Vegetables from Amaranth to Zucchini (William Morrow, 2001).
In the United States, the most popular form of kale is probably collard greens, a staple of Southern cooking. Today, many varieties of kale—including curly kale, Tuscan kale (also known as black kale or cavolo nero), and ornamental or flowering kale—can easily be found. Kale is a cool-weather vegetable that's in season from midwinter to spring, when it tastes sweeter.
Traditionally, kale is steamed, blanched, or sauteed until soft and tender. It works well in soups or stews along with beans, potatoes, and barley. It also makes a simple side dish when creamed or pureed. Raw, small curly kale leaves are an assertive addition to salads.
Look for dark-colored leaves that are slightly moist and tender. Avoid dry, brown, or yellow leaves and kale with dry stems.
Refrigerate kale in a sealed container or wrapped tightly in plastic, and store for only a few days or it will lose its flavor and vibrancy.
To prepare kale, strip the leaves from their tough stems (which can be discarded) and rinse thoroughly several times to remove dirt and grit.
Kale is easily found from midwinter through spring at supermarkets and farmers' markets.