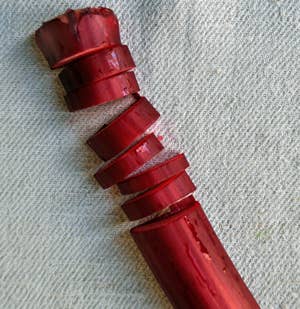 Rhubarb came to this country from Europe at the end of the 18th century, and early Americans put it to use immediately in pies, conserves, and home remedies for stomachaches and the like. This rosy-colored, exceptionally tart fruit grows in celery-like stalks whose appearance has long been celebrated as an early sign of spring's arrival. Today, rhubarb isn't as popular in desserts as it once was, but chefs are increasingly using it as a vegetable (which, in fact, it was thought to be until 1947, when it was officially declared a fruit). Produce expert Elizabeth Schneider recommends using it as you would sorrel, in sauces and stews, "for a lush consistency and an acid nip."
When shopping, look for stalks that have been pulled rather than cut, as they'll stay moist longer (the bottom of a stalk of cut rhubarb will have a even surface; a stalk of pulled rhubarb will be more craggy).
Deep red stalks are sweeter than paler ones and better for use in desserts.
Rhubarb will keep for a few days in the coldest part of the refrigerator, in a ventilated plastic bag or loosely wrapped in plastic.
Both fresh and cooked rhubarb freeze well, wrapped tightly in freezer bags.
You'll find rhubarb at farmers' markets and supermarkets, especially in the spring. If you plant rhubarb in your own garden, it will sprout again each spring for years to come.