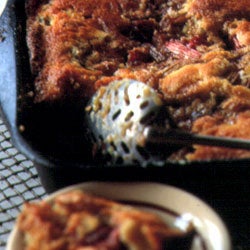 This old-fashioned specialty is best made in the spring, when the rhubarb is especially tender.
Yield: serves 6
Ingredients
3 cups chopped rhubarb
3⁄4 cup brown sugar
4 tbsp. butter, melted
2 eggs, lightly beaten
1⁄2 cup milk
1 1⁄2 cups flour
2 tsp. baking powder
1 tsp. vanilla
1 cup sugar
1 tsp. shortening
Instructions
Preheat oven to 350°. In a medium bowl, combine rhubarb and brown sugar, mix well, and set aside.
In a large bowl, combine 3 tbsp. of the melted butter, eggs, milk, flour, baking powder, vanilla, and sugar. Beat with a heavy whisk until a smooth batter is formed.
Grease a 9″ × 11″ pan with shortening. Pour in the batter. Spread rhubarb over batter and smooth it down so that the top is even. Drizzle with the remaining 1 tbsp. butter. Bake for 40 minutes. Serve warm.