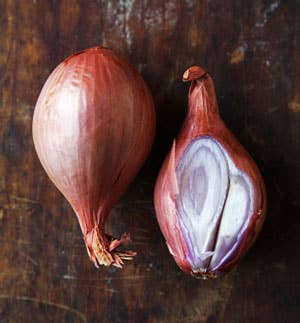 Less pungent than its cousin the onion, shallots are sweet little purplish packages bound up in coppery thin paper. Most commonly used as a garnish or in sauces, shallots are also good roasted or grilled and eaten whole as a side dish. They can be used in place of onions or scallions when a milder yet more complex flavor is preferred. Shallots are grown from a bulb rather than seed; a "mother" bulb is planted and continuously produces babies, which are harvested year-round.
Look for dry, firm bulbs that are free of any sprouts.
Do not refrigerate; store in a dry, well-ventilated place for up to three weeks.
For chopped shallots, remove top and bottom ends, slice in half, then gently pull off the skin before dicing into desired size.
For whole shallots, remove the skin before using by immersing the shallot in hot water for five minutes, then running it under cold water. Using a sharp paring knife, pull the skin back from top to bottom, then cut off the butt end without cutting into the bulb.
Shallots are available at your local gourmet food shop, your local farmers' market, or www.melissas.com.