Potato Salad with Tarragon and Shallots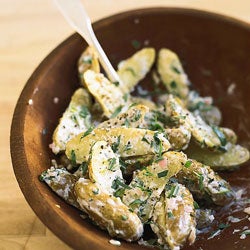 The addition of tarragon and shallots to this beloved summer staple makes it even tastier.
Potato Salad with Tarragon and Shallots
This recipe enlivens an old-fashioned American favorite with some surprising—but welcome—flavors.
Ingredients
2 lb. fingerling potatoes, halved
3 tbsp. vinegar
1 shallot, peeled and minced
3 tbsp. fresh tarragon, chopped
Salt and freshly ground pepper
3-4 tbsp. mayonnaise
Instructions
Boil fingerling potatoes in a large pot of salted water over high heat until tender, 10–20 minutes. Drain. Transfer to a bowl.
Add vinegar, shallots, tarragon, and salt and freshly ground black pepper to taste. Mix gently, let cool, then mix in mayonnaise.