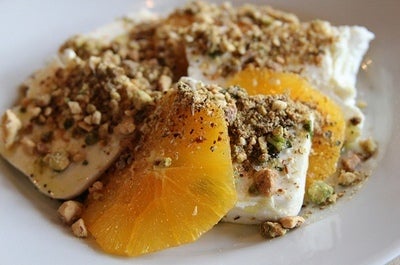 A look at what we're reading, cooking, and clicking this week.
• John Lanchester's review of Modernist Cuisine in the New Yorker expresses his gratefulness to Nathan Myhrvold's masterpiece for many things; among them, finally providing us with a phrase less controversial than "molecular gastronomy." New Yorker
• Our favorite way to use up leftover corned beef is in a hash — especially a red flannel one, with the sweet-earthy flavors of beets perfectly complementing the meat. Simply Recipes
• Dried beans shouldn't be intimidating. But oh boy, are they ever. Michael Ruhlman uses the magic of science to give the definitive answer to how to cook them well. Ruhlman
• Shrimp marinated in ancho chile and orange juice add extra punch to cheesy quesadillas. Homesick Texan
• Almond butter, brown rice syrup, crispy brown rice, and high quality chocolate make for some gorgeously simple (and healthier) rice crispy treats. Sprouted Kitchen
• It turns out the science behind how we taste sweetness is more complex than previously thought. NPR/Science Friday
Photo: The citrus and feta salad at Sitka and Spruce, Seattle.