Sharpen Your Dinner Table Style with the Best Steak Knives
From classic German knives to modern colors and styles, these are the knives you need.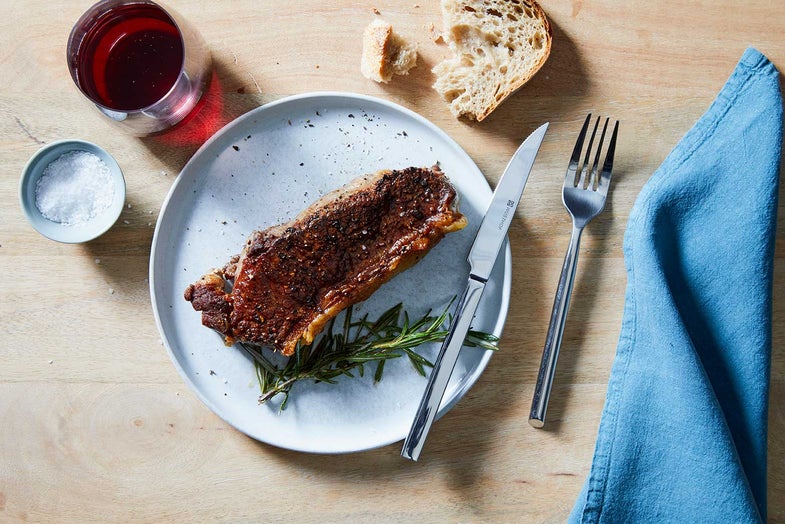 The best steak knives are designed with a singular task in mind: slicing through steak. Though they can, of course, be used on other types of meat (or even an ambitious cauliflower "steak"), every element from the shape of the handle to the curve of the blade is designed to optimize your steak-slicing experience. However, unlike other cutlery in your kitchen, steak knives have another mission: Looking good on the table as part of a place setting.  
As accustomed as we now are to wielding these sharp table knives for steaks, this style of table cutlery was actually the norm until post-WWII. The dull, barely serrated knives that are found in most flatware sets took the place of sharper, thinner table knives when they became mass produced, says Josh Donald of San Francisco's Bernal Cutlery. "Before knives were mass produced, everyday table knives were thinner and sharper, so there was no 'steak knife,'" says Donald. "Instead, these table knives had thin, sharp blades." During this era, knives were less of a mealtime essential and more of an ever present personal tool. "Everyone had their individual knife and would use it at the table and beyond," says Jackie Blanchard, owner of Coutelier Nola. "They'd cut their steak with it, peel their apple, cut a rope."
But today, despite the prevalence of mass-produced knives, many high-quality makers are producing great sets of steak knives that are readily available and blend right in to an elevated table setting. Our recommendations from the gamut from classic German steel to an upgraded version of the classic table knife that would suit any purpose.  
Our Top Picks
Type of Edge: Straight | Blade Material High carbon stainless steel | Handle Material: Plastic 
Pros
---
Easy to sharpen
Triple-riveted handle
Long-lasting blade
Why we chose it: Full-tang construction and an easily sharpened blade make this knife a safe bet for daily use for decades.
Zwillings J.A. Henckels has almost 300 years of experience forging their knives in Solingen, Germany, and it shows in every one of their knives. Each knife in this set of four is made with all the care of a hardworking chef's knife: full tang construction means they're made from a solid piece of steel, from tip to end, and the handle is triple-riveted to the blade. Their ability to slice through gristle and tough cuts of meat also rivals that of an 8 inch chef's knife, with the lightweight benefits of a table knife. The shape of the handle and curve of the blade allows for an easy, smooth motion when slicing. With regular sharpening, this set of knives will last decades.  
Type of Edge: Straight | Blade Material Stainless steel |Handle Material: Olive wood 
Pros
---
Lightweight
Easy to sharpen
Budget-friendly
Cons
---
Wood handles require extra care
Why we chose it: Classic French craftsmanship at a great price makes these knives an indispensable set. 
Opinel has manufactured classic French knives for everyday use since 1890, when its first wood-handled knife was designed "for the working man," by Joseph Opinel. Their straight, strong blades are now available as chefs knives, mushroom foraging blades, pruning shears, and of course, steak knives. "I don't like serration because I like knives to be able to be resharpened," says Blanchard. "That's a nice feature to have because plates can dull serration over time, just like carving onto ceramic or glass would." This set is excellent for everyday dining, while giving your table the rustic elegance of a languorous lunch or dinner in the French countryside. 
Type of Edge: Straight | Blade's Material High Carbon Stainless Steel | Handle Material: Plastic  
Pros
---
Incredibly sharp
Easy to resharpen
Durable
Cons
---
Plastic handles not as elegant as other materials
Why we chose it: These Swiss-made knives are basically indestructible and razor-sharp, perfectly at home at the dinner table or in the kitchen.   
Victorinox, the company that produces the iconic Swiss Army Knives, is also known for its high-quality, affordable knives. Made from Swiss steel, this set of four knives is a great option for heavy-duty usage, from weeknight steak dinners to taking along on a camping trip. The Gaucho knife style is inspired by the knives carried by South American cowboys, or gauchos, who needed uber-sharp all-purpose knives. These smaller versions are just as versatile, and their plastic handles are easy to clean and disinfect. 
Type of Edge: Straight | Blade's Material Stainless Steel | Handle Material: Matte composite
Pros
---
Easy to sharpen
Beautiful color choices
Very sharp
Cons
---
Composite handle is not solid wood
Why we chose it: Reminiscent of classic French knives and sleek Japanese style, these knives are a sharp, modern take on classic table knives.
While perfect for steaks, chops, and other cuts of meat in need of a sharp blade, these knives are ideal as part of any table setting. The handle is easy to grip, and comes in a variety of colors that fall within the Millennial colorway, from a warm persimmon to offwhite "glazed"; order them in a set of one color, or choose the mixed option for one of each color. A maple holder comes with the set that can either lay flat in a drawer or display them on your countertop or dining room console. These knives were made with modern diners in mind. 
Type of Edge: Straight | Blade's Material Stainless Steel | Handle Material: Juniper 
Pros
---
Easy to sharpen
Nice weight
Very sharp
Cons
---
Wood can degrade over time
Why we chose it: This set of hand-forged knives is beautiful, sharp, and iconic, making them a great investment for years to come.
The village of Laguiole in the Aubrac region of France is the location of storied knifemakers. None are more renowned than the Forge De Laguiole, which has been hand-forging knives with handles of wood, horn, coral, and more, that have been the centerpiece of French tables since 1828. Unlike many knives that are sold as "Laguiole," these are true representatives of the traditional and authentic French style of knife-making. The knives themselves feel sturdy in hand, with a well-balanced blade and bolster. The Juniper is one of many gorgeous options for handle material, but are elegant and simple enough for everyday use. With proper care, these knives will become family heirlooms. 
Type of Edge: Serrated | Blade's Material Stainless Steel |Brand: Wusthof 
Pros
---
Easy to clean
Sleek profile
Why we chose it: The sturdy steak knives are stainless steel from blade to tip, rendering them nearly indestructible, while blending in with the rest of your everyday flatware.  
Wusthof's legacy extends beyond its very reliable kitchen knives to this set of stainless steel steak knives. Saveur editor Samantha Weiss-Hills loves how they fit right in with her contemporary Mepra flatware, and they are as sharp as the day she and her husband got them seven years ago as a wedding gift. They are hefty in the hand, and don't feel flimsy one bit. They come in a handy storage box that keeps the blades protected. The one drawback is that they easily show fingerprints, so one must be prepared for that even on a beautifully set table.
Type of Edge: Serrated | Blade's Material Carbon Stainless Steel | Handle Material: Acrylic
Pros
---
Easy to clean acrylic handles
Fun color choices
Durable blades
Cons
---
Serrated edge is slightly rougher on food
Why we chose it: We couldn't resist this rainbow array of knives in the classic Laguoiole style, a gift that satisfies both aesthetically and functionality. 
This set of brightly-hued knives was designed by Laguiole craftsman Claude Dozorme, credited as the first cutler to manufacture the Laguiole style of knife with a fixed blade (traditional Laguiole knives fold). The handles are acrylic, while the blades are a sturdy high-carbon stainless steel that will hold its sharpness for long periods of time, even with high usage. While billed as steak knives, this set is perfect for setting the table for any meal, from cheese boards to vegetable dishes.
Features to Keep in Mind When Shopping for Steak Knives
Straight Versus Serrated Edge
Be honest with yourself about how often you plan to sharpen your knives. To properly care for a straight blade, you'll want to have them sharpened (or do it yourself) at least twice a year. Serrated knives do tend to hold their edge longer but are also harder to sharpen when they finally do need it. It's really personal preference, says Blanchard. "I believe the serrations tear the meat, allowing the juice to run out and dry the meat; you retain more moisture and flavor with a straight edge, and damage less of the cellular structure."
Handle Material
Steak knives are both functional and beautiful additions to a table setting; for that reason, they come in a wide range of materials, from durable resign and plastic, pakkawood and olive wood, or horns. Depending on how often the knives will be used is one consideration, as some materials will degrade in appearance and texture over time. Ultimately, handle material preference comes down to comfort (textured or smooth?) and style (rustic or contemporary?). 
Manufacturer 
There are many forges and manufacturers who have been honing their skills in the world of knives for hundreds of years. Zwillings and Wusthof offer solid German manufacturing while French makers like Chateauz Honoré, Laguiole, and Opinel offer a slimmer blade and style of handle. Knives from trusted manufacturers can last a lifetime—and may even come with a warranty stating as much. 
Storage & Care
Steak knives deserve the same care and attention as the rest of your cutlery— possibly  more, depending on what they're made of. The main rule: never, ever put your steak knives in the dishwasher. Hot caustic water and detergent will dull, nick, and otherwise damage every part of your knife. Always wash knives by hand, dry them thoroughly, and return to their box or dock. When knives become dull, have them professionally sharpened (or if you're comfortable with sharpening stones, do it yourself).
Ask the Experts
Q:  Can I use a regular knife for cutting a steak?  
If your steak is tender enough to cut with a regular table knife, then go for it. However, dull or lightly serrated knives will saw unnecessarily roughly through the tissues of your steak, letting flavor and juice out along the way, says Blanchard. 
Q: How do I sharpen my steak knife? 
A steak knife with a straight blade, like that of a chef's knife, can be sharpened exactly the same way: either through a professional knife sharpening service, or at home with a home sharpener or whetstone. Blanchard recommends using a honing steel on straight-edged steak knives, in between sharpenings. "Cermaic honing rods are ideal," says Blanchard. "I'm not looking for [steak knives] to be as sharp as a chef's knife; I want it to cut cleanly to retain the juices and fat from the meat." Depending on how often you use your knives, they could stay sharp for up to a year or more. 
Q: How long does a steak knife last? 
A well-cared for knife can last for generations. Like all sharpened knives, the blade will decrease in size over time, as the act of sharpening actively removes some metal on the blade to create a fresh, sharp edge each time. Make sure all knives are stored securely with their blades covered, whether in a box or block, and always washed by hand. 
Our Take
Steak knives are as much about aesthetics as the rest of your table setting, from the plates and napkins to the room you're dining in, so choosing the right ones for you is often style-focused. However, we highly recommend that you also look to high-quality manufacturers like Wusthof or Victorinox, regardless of price; high carbon stainless steel blades will last longer when well-cared for. 
Every product is independently selected and vetted by editors. Things you buy through our links may earn us a commission.