Recipes
Miss Daisy's Red Rice Recipe
A Southern classic and a staple of Lowcountry cooking, this red rice recipe is easy to prepare and simply delicious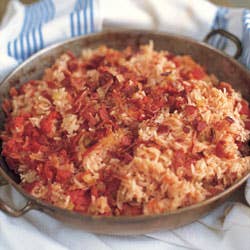 We came across Miss Daisy Brown at the BP gas station on Edisto Island, South Carolina, when creating our very first issue of SAVEUR. She shared her secrets for honest home-style cooking with us, including her Lowcountry red rice recipe, made in the oven to allow it to cook evenly and prevent it from scorching. "I know when the rice is done by the weight of a spoonful," she told us.
Ingredients
4 strips bacon
1 onion, diced
1 stalk celery, diced
1 small green pepper, diced
2 cups long-grain rice
1 28-oz. can crushed tomatoes
Sea salt and freshly ground pepper
Instructions
Step 1
Brown bacon until crisp, remove, and drain on paper towels. Add onions, celery, and peppers to bacon fat, and cook 10 minutes.
Step 2
Add rice and cook 5 minutes. Add crushed tomatoes, salt and pepper. Put in baking pan with 2 cups water. Cover tightly with foil. Bake at 350° for 1 hour. Serve with crumbled bacon.