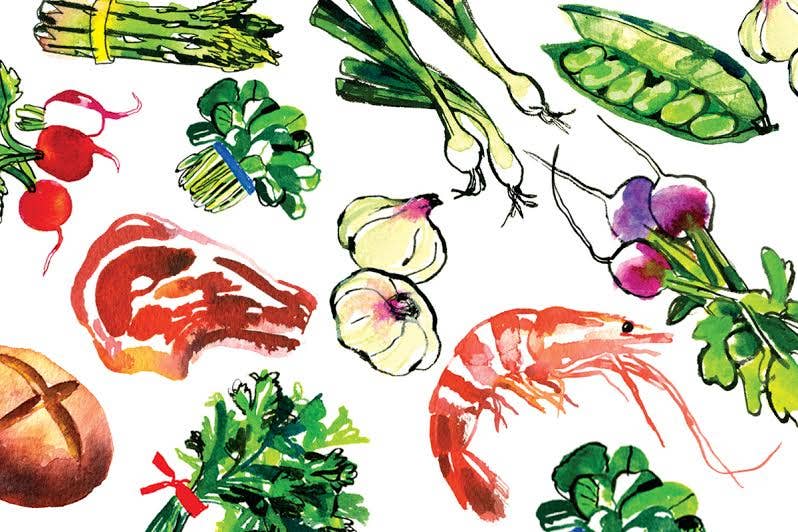 Techniques
Cool Beans
The chewy, robustly flavored Asian legume known as the long bean truly lives up to its name.
The chewy, robustly flavored Asian legume known as the long bean truly lives up to its name. The beans, common ingredients in many Asian and Asian-inspired dishes, including the Wok-Charred Long Beans with Black Olives, can grow as long as a meter. In this country they're sometimes known as yard-long beans, which drives the point home nicely. Biting into one of the slender pods for the first time, I was astonished at how different it tasted from the green beans I'd grown up eating: it was dense and satisfying and surprisingly meaty.
Vigna unguiculata sesquipedalis, as the long bean is known to botanists, is a relative of Southern peas (which include black-eyed peas and cowpeas) and, like them, probably originated in Africa. While most Southern peas are harvested when they're fully mature and then shelled, the long bean is usually eaten young, pod and all. In Thailand, raw long beans (tua fak yao) are smashed with shredded green papaya in a mortar for som tum, a salad seasoned with fish sauce, lime juice, and chiles. In Singapore, they're the star of kacang panjang belacan, a citrusy dry braise of long beans with lemongrass, shrimp paste, ginger, and candlenuts.
Several different subvarieties of long bean exist. The thicker white long bean is sweet and succulent, and the porous walls of its pod readily absorb cooking flavors; it's great for slow-cooked soups and stews. The darker-colored green variety has a firmer, crisper texture, not unlike that of young asparagus, so it lends itself to quick-cooking methods like stir-frying and pan-sauteing.
Some supermarkets in the States are starting to carry long beans, which are grown in many parts of the U.S., but Asian groceries remain the best bet for finding them. Look for beans that are plump at the tips and have smooth, unblemished skin. "The ones that are ideal are soft and silky; you should be able to coil them," says SAVEUR contributing editor Andrea Nguyen, who buys long beans at farmers' markets near her Santa Cruz, California, home and recommends that they be used within a day or so after purchase. "When they get more mature, the beans inside get really fat and stretch the skin and start to look like Governor Schwarzenegger's arms."