5 Great Store-Bought Cranberry Sauces
5 must-try takes on cranberry sauce to complement your Thanksgiving meal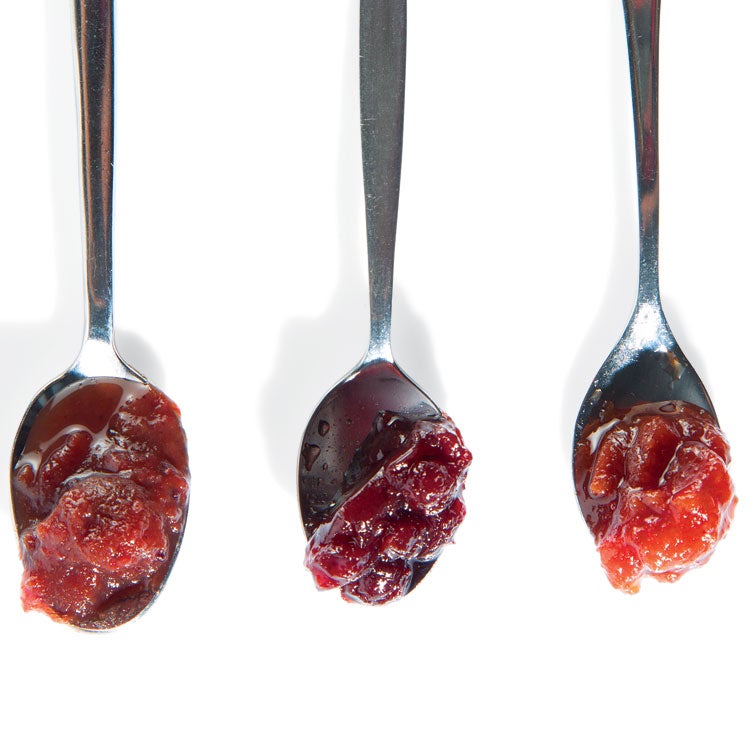 1. Confituras Cranberry Cinnamon Jam
Bright Valencia oranges and Mexican cinnamon warm the tart berries in this Texan jam. Finely chopped cranberries produce a smooth consistency that's as appealing on dinner rolls as it is over turkey and stuffing.
2. Wilkin & Sons Ltd. Tiptree Organic Wild Cranberry Sauce
Wild cranberries are reduced to a familiar, thick consistency in this quintessential holiday sauce, which has been made in Tiptree, England, since 1885. You'll want this one with the leftovers.
3. Anarchy in a Jar Tipsy Quince & Cranberry Chutney
Brooklyn jam maker Laena McCarthy plays soft, buttery texture off spiky acidity and alcoholic bite with her quince cranberry chutney, which unites two notoriously sour fruits with smoky-sweet whiskey-soaked raisins. The full-flavored result is great smeared on turkey sandwiches.
4. Saucy by Nature Cranberry Pear Sauce
Flecks of juicy pear and a dose of cardamom mellow slow-simmered cranberries in this micro-batch sauce, which is made mostly from local ingredients. Try it as a glaze for poultry or game birds, such as duck.
5. HeathGlen Cranberry Port Wine and Sage Chutney
This Minnesota-made chutney gets its savory edge from the addition of tawny port, sauteed onions, rosemary, and sage. It lends unexpected depth to turkey, and makes a fine component on a cheese plate.