Ice Cream Cookie Sandwiches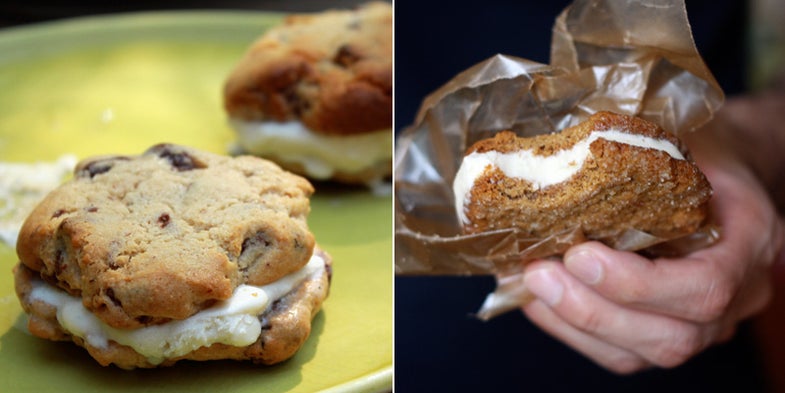 A homemade ice cream cookie sandwich is the perfect, well-portioned summer treat. You might be tempted to eat them up right after assembly, but they're well worth the overnight wait: There's something special that happens when the confection is stored in the freezer before eating. As the cream soaks in, the texture of the cookie softens, while ice cream and cookie are bound together by the freezer's chilly blast. I make them in batches throughout the season, wrapping each sandwich in waxed paper tied with twine like a tiny frozen present.
Biting into a cold, chewy ice cream cookie will never get old, in part because the flavor combinations are virtually endless. Right now I'm particularly partial to salty-sweet Flourless Peanut Butter Cookies with Vanilla Ice Cream, but I've also been day-dreaming of Pignoli and Beet Ice Cream with Mascarpone, Orange Zest, and Poppy Seeds sandwiches, and Sprinkle Cookies with Cream Cheese Sorbet. And when I don't feel like making ice cream, a pint of the store-bought stuff sandwiched between my freshly-baked cookies is almost as good.
How To Make Ice Cream Cookie Sandwiches
1. Start by making a batch of your favorite ice cream, which can be done up to a week before you bake the cookies. For inspiration, see 25 of our favorite ice cream recipes in the gallery »
2. The day before you want to serve your sandwiches, bake a batch of cookies. It's best to choose a sturdier chewier variety that won't break when spread with ice cream (some favorites are listed below). Use a cookie scoop to drop the dough onto the baking sheet—this will ensure that your cookies will all be the same size.
3. Let the cookies cool completely (sample a couple just to make sure they're alright) and pull your ice cream out of the freezer to soften. Meanwhile, cut out enough waxed paper rectangles (at least double the size of your cookies) to wrap all your sandwiches, and cut enough lengths of kitchen string to wrap around each sandwich.
4. Spread a scoop of softened ice cream onto the back side of one cookie with a large spoon, then sandwich a second cookie on top. Scrape off any ice cream that oozes out the sides, then immediately wrap the sandwich in waxed paper like a present, and tie it with in a bow with a ready piece of twine. It's important to work fast here, since the ice cream will keep oozing until it's in the freezer. Repeat until there's no more cookies left, stashing each sandwich in the freezer as you go. Let freeze at least 6 hours before serving. The sandwiches will stay fresh in the freezer for up to 10 days, but it's difficult not to eat them all before then.
Cookies For Ice Cream Sandwiches
Sprinkle Cookies
Flat and Chewy Chocolate Chip Cookies
Cowboy Cookies
Flourless Peanut Butter Cookies
Snickerdoodles
Pignoli
Butter Cookies