Sicilian Vanilla Ice Cream (Gelato di Vaniglia)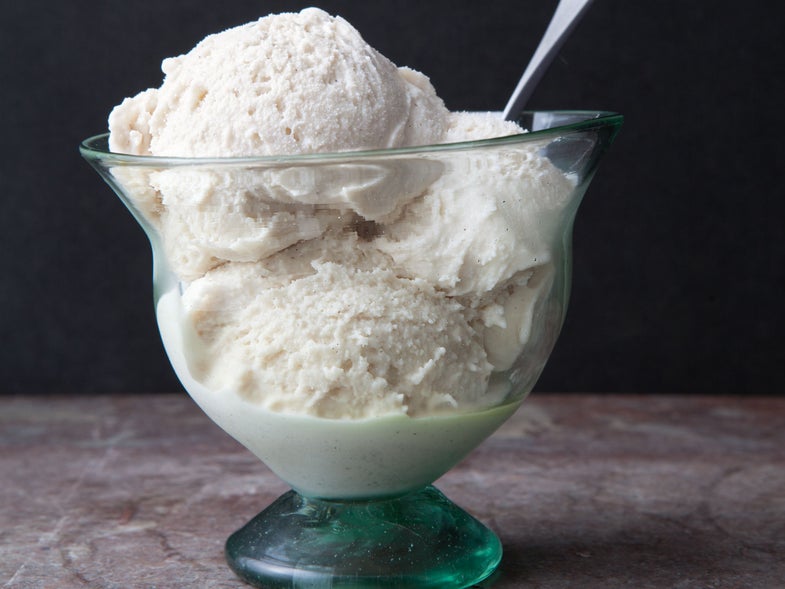 This recipe, adapted from Mary Taylor Simeti's book Pomp and Sustenance: Twenty-Five Centuries of Sicilian Food (The Ecco Press, 1989), is for a rare Sicilian gelato that does contain cream and an egg yolk.
Find this recipe in our cookbook, SAVEUR: Italian Comfort Food
Yield: serves 6-8
Ingredients
2 1⁄4 cups cups whole milk
3⁄4 cup heavy cream
1 vanilla bean, split lengthwise
3⁄4 cup sugar
2 tbsp. cornstarch
1 egg yolk
Instructions
Put 1 1⁄4 cups of the milk, cream, and vanilla bean into a heavy-bottomed medium saucepan and heat over medium heat until bubbles appear around the edge of the saucepan and mixture is about to boil.
Meanwhile, put remaining 1 cup milk, sugar, and cornstarch into a small bowl and stir until well combined. Remove saucepan from heat and stir in cornstarch mixture. Return saucepan to heat and cook, stirring frequently, until sugar dissolves and mixture thickens slightly, 8-10 minutes. Remove saucepan from heat.
Put egg yolk into a medium bowl and whisk until slightly thickened. Pour 1 cup of the hot milk mixture into the yolk, whisking constantly, then gradually add mixture back into the hot milk mixture in the saucepan, stirring with a wooden spoon. Set aside to let cool, stirring often, then cover with plastic and refrigerate overnight. Remove and discard vanilla bean.
Process in an ice cream maker according to manufacturer's directions.