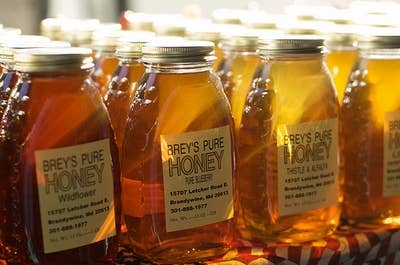 I often forget that honey - the sweet, golden syrup produced by honeybees - is a seasonal food. Unlike tomatoes, eggplants and other perishable summer gifts, honey stores indefinitely, which means local honey is available at farmers' markets year round. Still, honey production is limited in a similar way to the harvesting of other season-driven ingredients; it's entirely dependent on the sun's warmth, and the nectar-rich blossoms that come with it.
Likewise, honey, perhaps even more than wine, chocolate or coffee, is influenced by terroir. Its color, flavor and aroma are shaped by the primary type of flower a hive's bees visit on their hunt for nectar and pollen. As a result, honey is as diverse as the flowers blooming nearby, ranging from mildly sweet and pale gold (acacia and clover) to smoky and molasses-colored (buckwheat) or bright and floral (orange blossom). Honey is also processed in many different ways: it can be strained and liquefied like molten gold, left raw and textured, pooled around a waxy hunk of honeycomb, or whipped until it's creamy like butter.
Many recipes neglect to account for this variety, simply calling for "honey" without specifying a particular type. But not all kinds of honey are interchangeable; each type imparts a unique flavor to a dish. Lighter, milder varieties taste best in dishes where punching up the sweetness level is the primary goal. Bolder varieties pair best with recipes that allow the honey's distinctive taste to shine.
Growing up, I always thought of honey as endearingly old-fashioned - the perfect sweetener for tea served in china cups alongside a slice of lemon, or for health food lovers to spoon over their morning oatmeal. But as the recipes below demonstrate, honey is equally at home in a milky Tibetan rice pudding, or drizzled over grilled peaches with honey-almond streusel, as it is brushed over braised salmon or lending a sweet, earthy touch to ricotta crostini. Stock your pantry with several varieties and experiment to truly enjoy honey in all of its delicious forms.
Honey Ice Cream
Sweet, golden honey transforms regular vanilla ice cream into something truly special.
Tibetan Rice Pudding
This milky rice pudding is studded with golden raisins and dried apples and gently sweetened with clover honey.
Sweet and Sour Onions
Wildflower honey and white wine vinegar combine to give yellow boiling onions a sweet and tangy kick.
Milk and Honey
Eleven Madison Park chef Daniel Humm's favorite at-home comfort drink is warm milk stirred with honey.
Leah Koenig is a food writer and author of The Hadassah Everyday Cookbook: Daily Meals for the Contemporary Jewish Kitchen (Rizzoli, 2011).