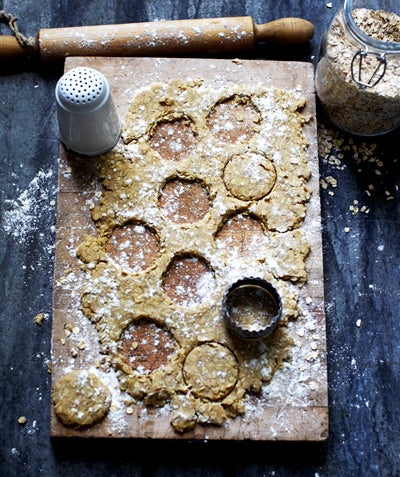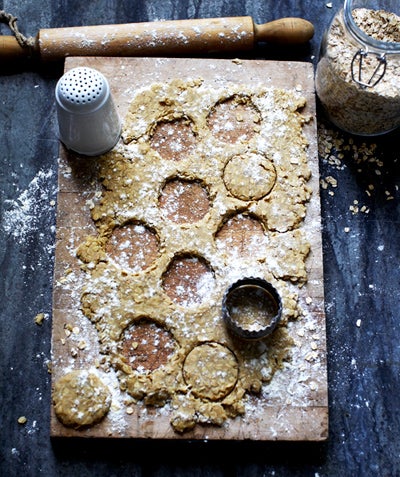 Made with just five ingredients—oatmeal, wheat flour, butter, water, and salt—these traditional Irish oatcakes are outstanding topped with good, creamy butter and sweet jam. This recipe comes to us from Darina Allen's Irish Traditional Cooking: Over 300 Recipes from Ireland's Heritage (Kyle Books; 2012).
Yield: makes 10
Ingredients
1 1⁄2 cups stone-ground oatmeal, preferably Macroom's
1 1⁄2 cups whole wheat flour, plus more for dusting
3 tbsp. unsalted butter or lard, cubed and chilled, plus butter for serving (optional)
1⁄2 tsp. kosher salt
3⁄4 cup boiling water
Jam, for serving (optional)
Instructions
Pulse oatmeal, flour, butter, and salt in a food processor until pea-size crumbles form. Add water; pulse until dough forms. Transfer dough to a lightly floured baking sheet. Press a sheet of parchment paper over dough and using a rolling pin, roll dough into a 1⁄2″ thick square; cover with a kitchen towel and let sit 1 hour to dry slightly.
Heat oven to 250°F. Using a 3″ round cutter, cut out cakes; gather and reuse scraps. Transfer cakes to a baking sheet; bake, flipping once, until golden and slightly crisp, 1 hour and 15 minutes. The more slowly it cooks, the better the flavor will be. Let cool slightly; serve with butter and jam, if you like. Store in an airtight container at room temperature for up to a week.