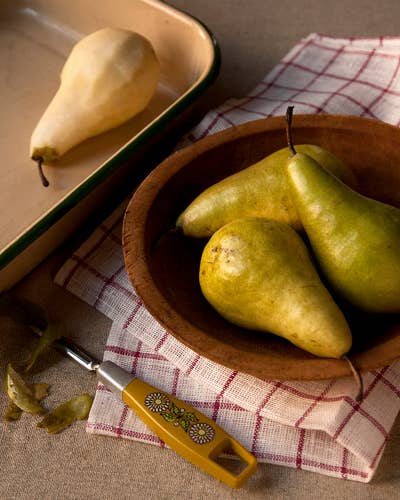 On the night before my wedding three autumns ago, my friends took me for a ride on the Staten Island Ferry. The air was brisk as we stood on the deck watching the blinking New York City skyline grow small, and then big again. Rush hour had passed, so the boat was quiet while my friends toasted me with champagne poured from water bottles and read me the poem Recuerdo by Edna St. Vincent Millay. I cried, of course - dreaming of the next day and overwhelmed by the love pouring from their mouths while they recited Millay's intoxicating lines:
I think the poem's mention of pears had something to do with it too. I've always loved food imagery in poetry, and pears are the kind of fruit that can make someone feel a little weepy. The earliest varieties come into season at a particularly emotional time, on the cusp of early fall - arriving with a heavy sweetness and a reminder to unearth your sweaters before winter charges in. From that moment through the first wisp of spring, pears, along with their crisper cousin the apple, rule the fruit basket.
Pears originated thousands of years ago in the Caucuses region and spread both east and west to Asia and Europe, respectively. They quickly gained favor for their sweet smell and melting juiciness, reaching their height of popularity in 19th century New England where Henry David Thoreau called pears "a more aristocratic fruit than apples…[whispering] of the happy stars under whose influence they have grown and matured."
Today, American-grown pears, 95 percent of which are harvested in Washington, Oregon and northern California, are less iconic than apples but no less delicious. They come in many varieties - red skinned and green, squat and thin, bulbous and pint-sized. Pears can be purchased firm, ripened at home in a brown paper bag, and stored in the refrigerator until ready for use. The season is just beginning, so grab an armful of sweet pears (and maybe a box of tissues), and say hello to fall.
SWEET
Pear Tarte Tatin
Pears replace the apples in this traditional French dessert.
Chestnut Honey Pears
These wine-poached pears are sweetened with musky chestnut honey.
Smitten Kitchen: Bittersweet Chocolate and Pear Cake
The classic combination of pears and chocolate are showcased in this showstopper cake.
Food52: Sea Salted Caramel Pears
This sweet and salty riff on caramel apples pleases kids and adults alike.
101 Cookbooks: Wheat Berry Breakfast Bowl
Wheat berries topped with pears, yogurt and maple syrup make a delicious and virtuous breakfast.
SAVORY
Pear, Shallot and Delicata Squash Soup
Autumn's most satisfying flavors come together in this creamy, sweet, and tangy soup.
Pear and Boudin Salad
Slices of ripe Bartlett pear complement spiced sausage in this hearty salad.
Oprah: Stilton Pear Crostini with Pumpkin Seed Oil
Topped with blue cheese and sweet pear, these crostini make a rich and satisfying hors d'oeuvre.
Eating Well: Chicken Thighs with Pear Leek Sauce
Leeks and pear make a delicious sauce for sauteed chicken thighs.
DRINK
The Daisy Buchanan
Champagne, pear liqueur and a splash of brandy combine in this sparkling cocktail.
Pear Sour Jelly Shots
This whimsical update on Jell-O shots combines lemonade, pear liqueur, agave syrup, gin and bitters.
Chow: Mulled Pear Hard Cider
Brandy, ginger and vanilla beans add spice and depth to warm pear cider.
Leah Koenig is a freelance writer and author of The Hadassah Everyday Cookbook: Daily Meals for the Contemporary Jewish Kitchen
.