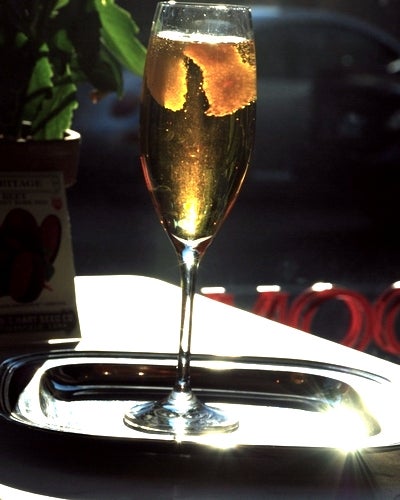 This recipe was developed by Andrew Hotis, general manager at Heirloom in New Haven. He explains: "The Daisy Buchanan is based on the tried and true cocktail recipe: a base spirit, a bitter element, and a sweet element. I wanted this to feel seasonal — we're here in New England, and for me apples and pears are a no-brainer this time of year. It's a beautiful, elegant, feminine cocktail with the crispness of the apple skin balanced beautifully with Champagne. The garnish, the important fourth ingredient in any three-ingredient cocktail, is just a very wide cut of lemon peel, done not with a fancy bar tool but with a paring knife so it's a really rough cut. Dropped into the glass it's an aromatic element that punctuates the drink and gives a great look, a rustic contrast to the refined Champagne flute."
The Daisy Buchanan
This recipe was developed by Andrew Hotis, general manager at Heirloom in New Haven. He says: "The Daisy Buchanan is based on the tried and true cocktail recipe: a base spirit, a bitter element, and a sweet element."
Ingredients
1 oz. Calvados
1⁄2 oz. pear liqueur
Champagne
Wide strip of lemon peel, for garnish
Instructions
In a Champagne flute, layer the Calvados and pear liqueur. Fill with champagne and garnish with lemon peel.