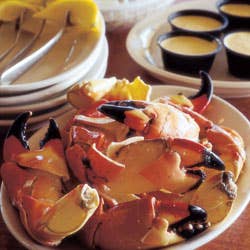 Techniques
Stone Cold Delicious
Sweetly succulent, rich, firm, and meaty, the Florida stone crab rightly enjoys a reputation as one of the greatest delicacies from the sea.
At SAVEUR, our editors and contributors often find themselves traveling to the far-flung corners of the world in search of the foods and recipes that make life worth savoring. And sometimes we just venture to our own backyard.
In this case, our quest for Precious Stones took us to Florida, the main fishing ground for one of our favorite foods—the rare, unusual, and utterly delicious Florida stone crab. Harvested only from mid-October through mid-May, this Sunshine State delicacy is a refreshing departure from typical seafood fare, both for its fine flavor and its relatively guilt-free harvesting method: Only the claws are edible, so fishermen may legally harvest only the claws, leaving the crab to live—and regenerate its missing claw—another day.
But really, we like them just because they taste so good. And since the budding days of spring are a wonderful time to rediscover these black-tipped beauties, we've put together three menus highlighting our stone crab recipes, so that you can enjoy them, too.