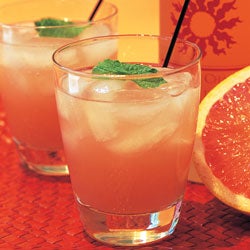 When researching the Floridita, we found that many establishments create their own version of this classic drink. This one, from Bar Americain in New York City, is quite refreshing.
Vodka Floridita
Grapefruit vodka adds a special zing to this light, refreshing cocktail.
Ingredients
2 oz. Charbay ruby red grapefruit vodka
1 1⁄2 oz. fresh grapefruit juice
1 oz. fresh lime juice
1 oz. triple sec
Mint leaves for garnish
Instructions
In a shaker, combine all ingredients. Shake well, pour into a rocks glass and garnish with mint leaves.