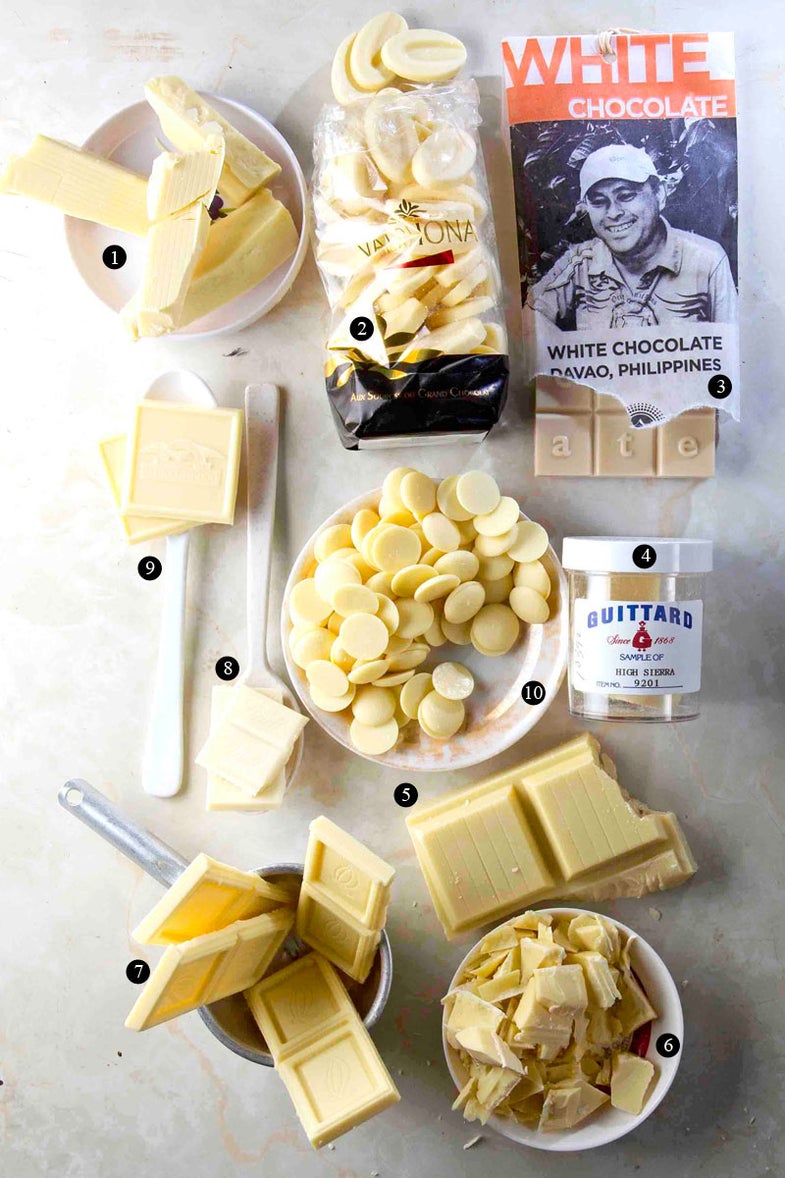 While tasting white chocolates from both large producers and craft chocolatiers, we encountered a surprising spectrum of flavors, from grassy to fruity to salt-edged. Cocoa butter percentages generally varied from 29 to 55 percent, but we preferred the moderate creaminess of those composed of just over one-third cocoa butter.
Felchlin Mont Blanc Couverture (1) from Switzerland is mildly sweet with a fresh milkiness, well-suited to truffles and confections.
France's Valrhona Ivoire (2) has a deep, elegant richness that comes through best in puddings, ganaches, and frostings.
Askinosie Davao White Chocolate (3), a single-origin bar made with goat's milk powder, offers layers of earthy, nutty, and floral flavors, and is best eaten out of hand.
The caramel notes in E. Guittard High Sierra (4) lend cooked-sugar depth to glazes and ganache.
The Ecuadorian cocoa butter in Vintage Plantations 33% Cacao White Chocolate (5) imparts powerful aromas of pineapple and coconut to any dessert.
Intense El Rey Icoa (6) from Venezuela tastes strikingly of milk chocolate; melt it into ganache or hot cocoa.
Perugina White Chocolate (7) from Italy possesses a balanced roundness reminiscent of sweetened condensed milk; it's perfect for custards.
The straight forward dairy smoothness of Lindt Classic Recipes White Chocolate (8) makes it ideal for folding into cookies, brownies, or ice cream.
Ghirardelli Chocolate White Chocolate Baking Bar (9), with hints of coconut and honey, adds subtle fragrance to butter cakes, custards, or icings, while the soft salinity of Cacao Barry Zephyr (10) from Belgium makes it a match for nuts and dried fruits.