18th Street Dinnerware
A casual table setting with the feel of handmade pottery.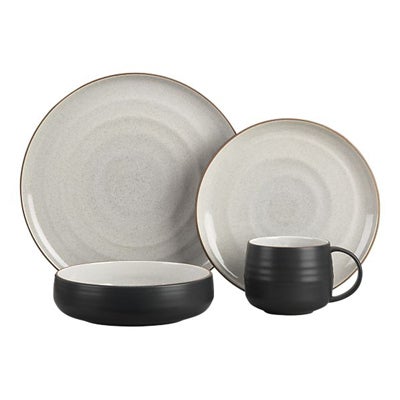 We recently got a set of this dinnerware for use in the SAVEUR office. Designed by our friend and New York ceramicist Kathy Erteman, they mimic the look of hand-thrown pottery — the terra cotta rim, the lightly speckled glaze — without being so precious that we can't load them in the dishwasher after meals and stick them in the microwave or oven to heat up leftovers. I love the way the rustic-yet-elegant design elevates the mood of my cubicle lunches and cups of coffee or tea, bringing a feeling of home and calm to my desktop. Influenced by Kathy's extensive global travels, they are carefully designed to compliment whatever they hold, without detracting from the presentation of the food. We've found that they make excellent props for photographing food on, and are perfect for setting the table for a casual dinner party.
18th St. 16-Piece Dinnerware Set, $149.95 at Crate & Barrel