Apple Cider-Cinnamon Ice Cream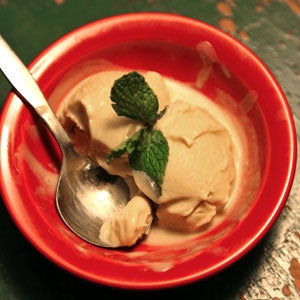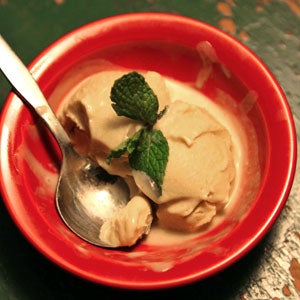 A spiced, autumnal ice cream is the perfect, cool finish to a Thanksgiving feast. This recipe first appeared in our November 2011 issue along with Linda Monastra's story True Harvest
Apple Cider-Cinnamon Ice Cream
A spiced, autumnal ice cream is the perfect, cool finish to a Thanksgiving feast.
Ingredients
2 cups apple cider
3⁄4 cup evaporated cane juice or sugar
1 stick cinnamon
2 cups milk
2 cups heavy cream
1⁄4 tsp. ground cinnamon
6 egg yolks
Instructions
Whisk apple cider, cane juice or sugar, and cinnamon stick in a 4-qt. saucepan over medium-high heat; bring to a boil, and cook, stirring occasionally, until reduced to 2⁄3 cup, about 25 minutes; remove from heat and discard cinnamon stick. Stir in milk and cream until smooth, and then add ground cinnamon and egg yolks; whisk until smooth. Return saucepan to medium heat and cook, stirring often, until mixture thickens and coats the back of a spoon, about 20 minutes. Pour custard through a fine strainer into a medium bowl, and let cool; refrigerate until chilled.
Process chilled custard in an ice cream maker according to manufacturer's instructions. Transfer to a storage container and freeze until firm, at least 4 hours.