Recipes
Italian Stuffed-Beef Rolls in Tomato Sauce (Braciola alla Marinara)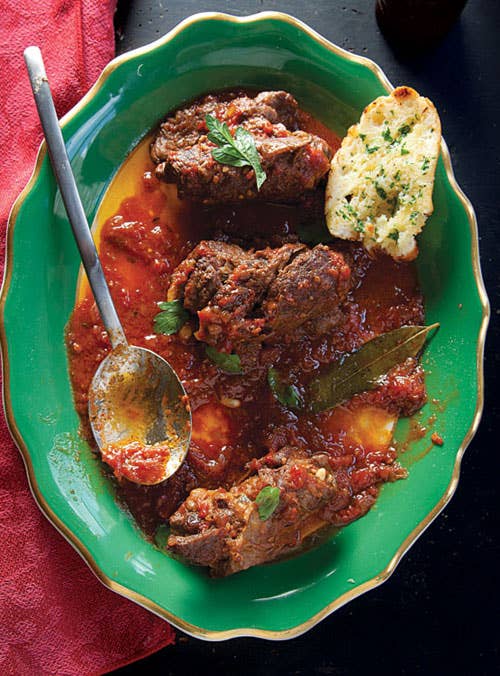 Many of my favorite memories are of the epic Sunday dinners at my grandparents' house in Philadelphia. My grandmother, Nancy DiRenzo, would be up at dawn cooking. By 2:00 p.m., family would start piling in for what would inevitably become a six-hour meal; guests spilled from the dining room to the kitchen to the living room, eating off folding TV trays. The centerpiece was the rich tomato gravy. What gave it its heft were the meats that Grandmom cooked in it: pork sausages, meatballs, and my favorite, braciola. The dish is a lean cut of beef pounded thin, then spread with a layer of grated cheese, fresh herbs, bits of prosciutto, raisins, and pine nuts, then rolled, tied, seared, and simmered for hours in tomato sauce. I've had similar dishes with names like involtini or rollatini; what these recipes share is the art of stretching a little protein to feed as many mouths as possible. These days, I find myself putting up a pot of "red gravy" on Sundays, just like Grandmom's, studded with meatballs, good sausage, and of course, braciola. For some reason, maybe it's just a trick of memory, but hers was better than mine. —Michael Colameco, host of Mike Colameco's Real Food on PBS
Ingredients
1⁄3 cup raisins
5 tbsp. chopped parsley
1⁄4 cup pine nuts
1⁄4 cup finely grated Parmesan
3 cloves garlic, finely chopped
12 (6" x 4") slices boneless beef chuck, pounded to 1/16" thickness
1⁄4 cup olive oil
1 medium yellow onion, finely chopped
1⁄2 cup red wine
1⁄2 tsp. red chile flakes
2 (28-oz.) cans whole, peeled tomatoes in juice, crushed by hand
1 bay leaf
Kosher salt and freshly ground black pepper, to taste
Garlic bread, for serving
Instructions
Step 1
To make the filling, mix together raisins, 4 tbsp. parsley, pine nuts, Parmesan, and garlic in a bowl; set aside. Place a slice of beef on a work surface perpendicular to you, season with salt and pepper, and place about 1 tbsp. filling on the bottom half; starting with the filled half, roll beef up around the filling into a tight cylinder. Secure roll with toothpicks, and repeat with remaining beef and filling.
Step 2
Heat oil in a 6-qt. Dutch oven over medium-high heat. Working in batches, add beef rolls, and cook, turning as needed, until browned on all sides, about 6 minutes. Transfer to a plate and set aside. Add onion to pot, and cook, stirring, until soft, about 5 minutes. Add wine, and cook, stirring to scrape bottom of pot, until almost evaporated, about 5 minutes. Stir in chile flakes, tomatoes, and bay leaf, and then return beef rolls to pot. Bring to a boil, and then reduce heat to medium-low; cook, covered partially and gently stirring occasionally, until meat is cooked through and tender, about 2 hours.
Step 3
Remove meat rolls from sauce, remove toothpicks, and transfer to a serving platter; continue cooking sauce until reduced and thickened, about 20 minutes. Pour sauce over meat rolls, and sprinkle with remaining parsley.