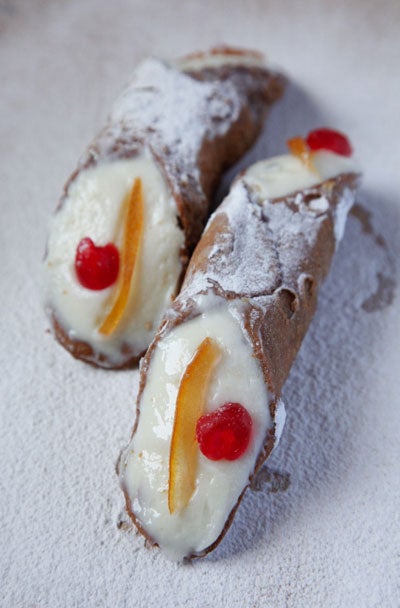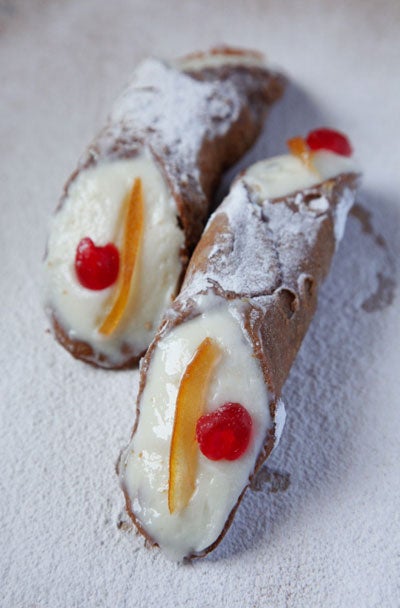 Ricotta impastata, a smoother and drier version of ricotta, is typically used for filling cannoli. This recipe comes from cookbook author Nick Malgieri. This recipe appeared in our March 2011 issue as a part of our special feature, Soul of Sicily
Sicilian Cannoli
Ricotta impastata—a smoother and drier version of ricotta—lightly sweetened and perfumed with cinnamon and orange zest fills these crisp shells.
For the Dough
2 1⁄2 cups flour
1⁄4 cup sugar
1 tsp. ground cinnamon
1 tsp. kosher salt
4 tbsp. unsalted butter, cubed and chilled
5 tbsp. red wine
2 eggs, lightly beaten
1 egg white, lightly beaten
Canola oil, for frying
For the Filling
1 lb. ricotta, drained overnight in a cheesecloth-lined strainer, or ricotta impastata
3⁄4 cup confectioners' sugar, sifted
2 tsp. vanilla extract
1 tsp. ground cinnamon
1 tsp. orange zest
Amarena cherries, halved, to garnish
Candied orange peel strips, to garnish
Instructions
For the dough: In a large bowl, whisk together flour, sugar, cinnamon, and salt; add butter and rub it into flour with fingers until mixture resembles bread crumbs. Add wine and 2 eggs and mix until dough forms. Transfer dough to floured work surface and knead until smooth, 6-8 minutes. Wrap in plastic and refrigerate for 1 hour.
Divide dough into quarters; working with one quarter at a time, pass dough through widest setting on pasta roller. Decrease setting by one notch and pass dough through roller; repeat, decreasing width by one level each time, until 1⁄16″ thick. Using a 4″ round cutter, cut out dough and transfer to parchment paper; repeat with remaining dough. Working with one dough circle at a time, wrap dough around a 1″ × 4 3⁄4″ cannoli core, and brush edges with egg white to seal. Repeat with remaining dough; set aside.
Pour oil into a 6-qt. pot to a depth of 2″ and heat over medium-high heat until a deep-fry thermometer reads 350°. Working in batches, fry cannoli until light brown and crisp, 1-2 minutes. Using tongs, transfer cannoli to paper towels to drain; while hot, carefully remove cannoli shell from core and set aside on a wire rack to cool.
For the filling: Combine ricotta, sugar, vanilla, cinnamon, and orange zest in a large bowl and whisk until smooth, 2-3 minutes. Transfer to a piping bag fitted with a 3⁄4″-wide plain tip. Pipe ricotta mixture into cannoli shells to fill. Garnish each end with a cherry half and orange peel strip.