Recipes
Chicken Kiev
Serves

serves 4

Cook

2 hours 50 minutes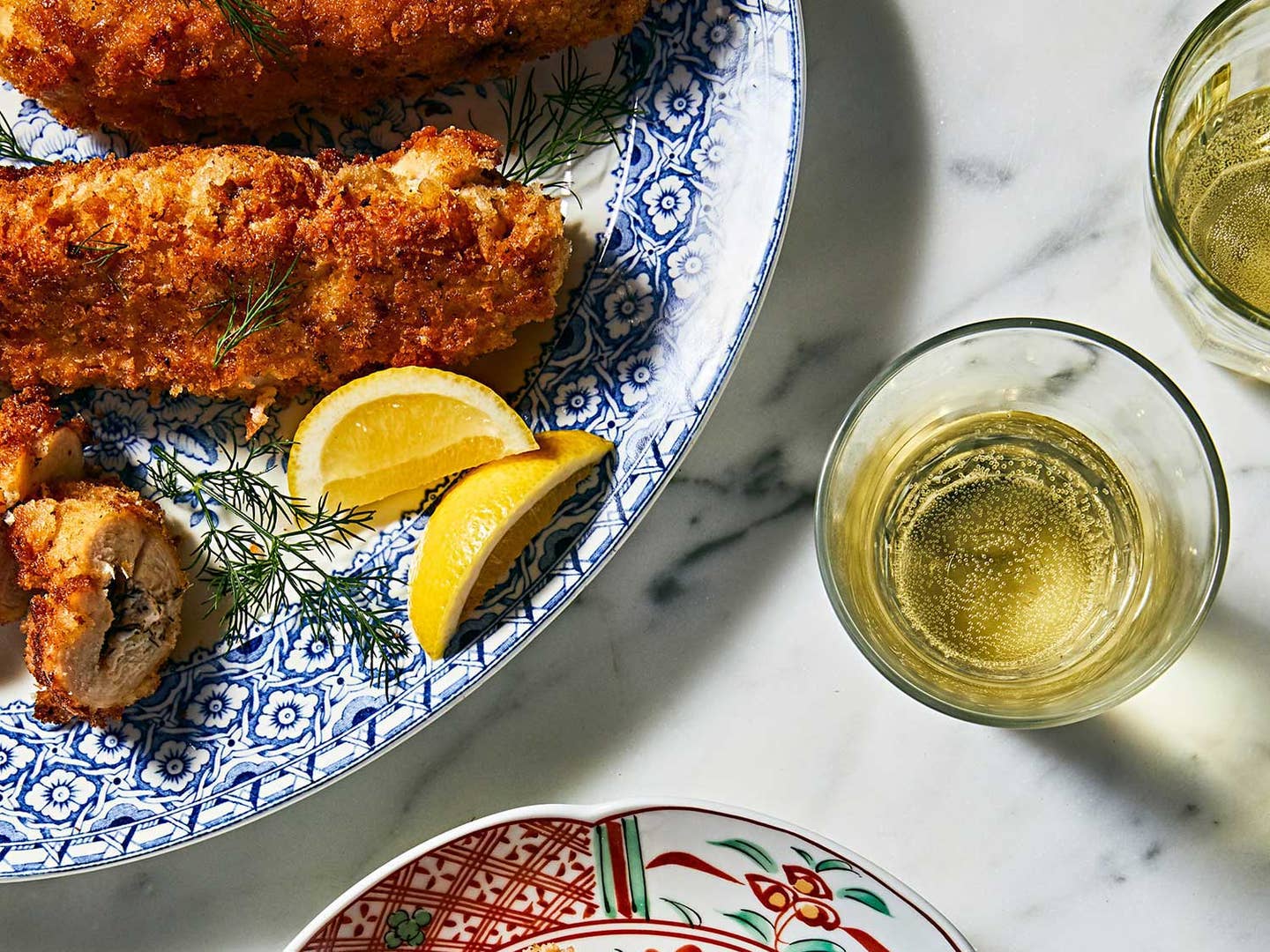 Though it's named for Ukraine's capital city, chicken Kiev is probably not a Ukrainian dish. Some say it was conceived by the French inventor Nicolas Appert in the 18th century; others claim it was created at a private club in Moscow in 1912. Either way, we love it for its crisp exterior and its luscious core of dill-flavored butter.
To make one cup of fresh bread crumbs, cut the crusts off of three slices of white sandwich bread, tear the bread into pieces, and pulse it in a food processor—two or three times for coarse crumbs, more for a finer consistency.
Ingredients
8 Tbsp. unsalted butter, at room temperature
1½ tsp. finely chopped fresh dill
2 tsp. fresh lemon juice
½ tsp. cayenne pepper
Kosher salt and freshly ground black pepper
4 skinless boneless chicken breast halves (about 6 oz. each)
4 cups fresh bread crumbs
1 tsp. dried thyme
1 cup all-purpose flour
3 eggs, beaten
Vegetable oil, for frying
Instructions
Step 1
In a medium bowl, stir together the butter, dill, lemon juice, and cayenne. Season with salt and pepper; mix well. Spread a 12-inch piece of plastic wrap on a work surface, and mound the butter onto one end, forming a 2-by-3-inch rectangle. Wrap the butter in the plastic, retaining the shape, and refrigerate for 2 hours.
Step 2
Place each chicken breast between 2 pieces of plastic wrap; using a mallet, pound them evenly to ¼-inch thickness. Season each chicken breast with salt and pepper. Retrieve the compound butter from the refrigerator, and cut lengthwise into 4 equal-size bars. Place 1 bar in the center of each breast. Fold the ends over the butter; roll up each piece tightly to enclose the butter. Secure with toothpicks, if desired.
Step 3
Whisk together bread crumbs, thyme, and 1 tsp. salt in a bowl and season generously with pepper. Put flour and eggs into 2 separate shallow dishes. Working with 1 chicken roll at a time, dredge in flour, then eggs, followed by bread crumbs. (Firmly press bread crumbs onto chicken; shake off excess.) Transfer to a sheet pan, cover, and refrigerate for 2 hours.
Step 4
In a large straight-sided skillet, add enough oil to reach ½ inch up the sides of the skillet. Heat over medium until the oil registers 325°F on a deep-fry thermometer. Add the chicken, then reduce the heat to medium-low; cook, turning once, until golden brown and cooked through, about 25 minutes. Using tongs, transfer to a paper towel-lined plate. Remove toothpicks, if using. Serve immediately.