Recipes
The Enduring Appeal of Chicken Kiev
Oozing with melted butter, this haute-cuisine dish continues to delight
Serves

serves 4

Cook

2 hours 50 minutes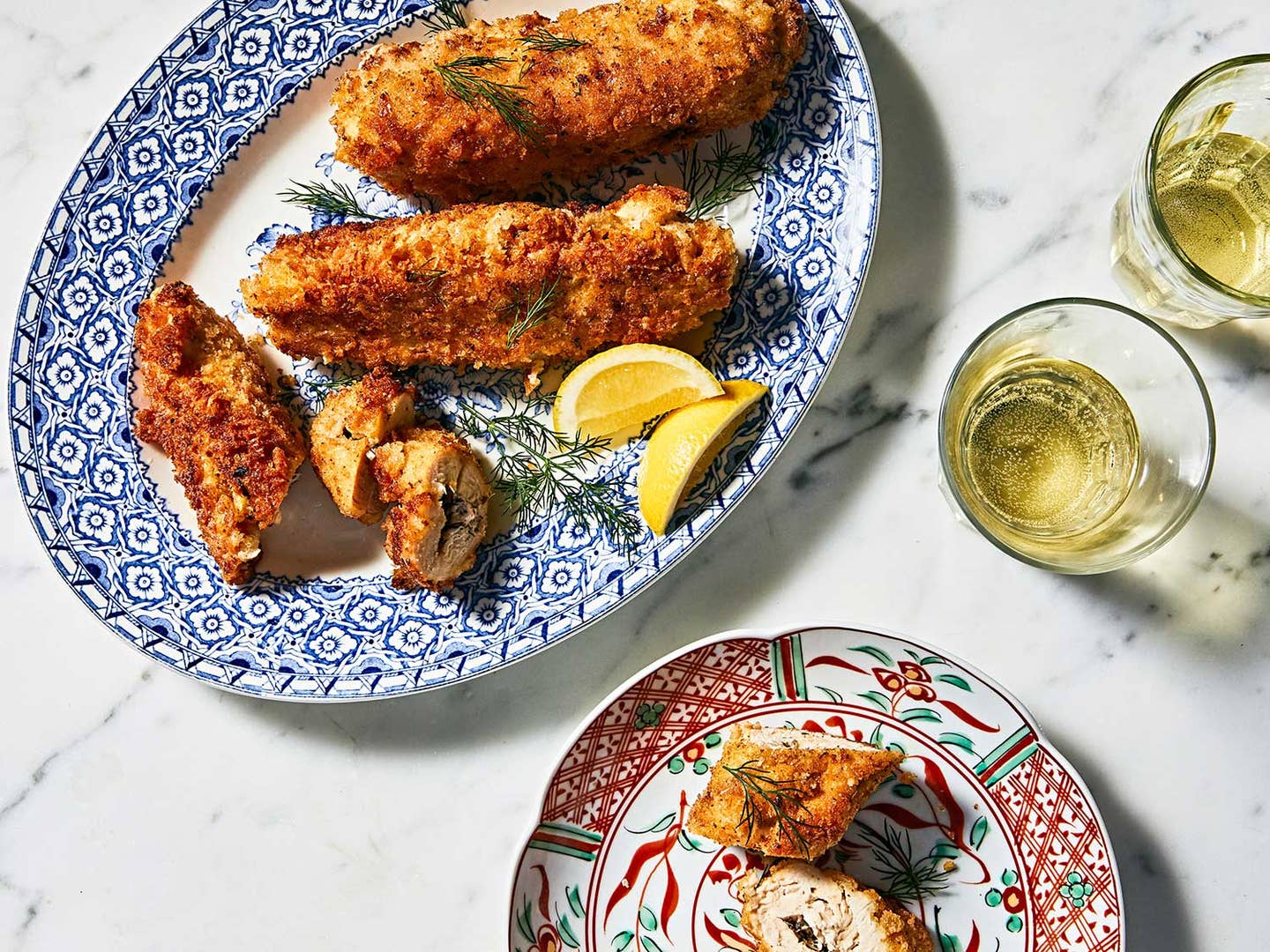 Ah, chicken Kiev. The name is almost comically straightforward, suggesting that this is just how chicken is made in Ukraine's capital (like chicken Rome or chicken Paris, if those dishes existed). But if you thought you were exploring traditional Eastern European fare from chicken Kiev recipes or frozen dinners, I'm sorry to disappoint. The exact origins of the dish are contested, but it most certainly stemmed from haute-cuisine dining trends rather than home cooking found anywhere in the world.
"Chicken Kiev is not really a traditional Ukrainian dish," says Olia Hercules, a Ukrainian food writer based in London and author of the cookbook, Mamushka: Recipes From Ukraine & Beyond. "The first time I heard of it was when I moved abroad."
Comprised of a pounded, breaded chicken breast rolled up and filled with butter and herbs that ooze once it's cut into, chicken Kiev employs techniques popularized by French chefs in the 19th century, some of whom were hired by elite Russian families. But it gained fame in America in the mid-century—along with similar stuffed chicken cutlet- (or côtelette-) based dishes, such as chicken Cordon Bleu.
According to Darra Goldstein, author of A Taste of Russia and the upcoming cookbook, Beyond the North Wind: Russia in Recipes and Lore, most Soviet sources claim that chicken Kiev was invented in 1947 by the chef to the Ukrainian minister of foreign affairs. "But the thing is, they were being served as "cutlets a la Kiev" in 1946 in New York City at the Russian restaurant Casino Russe, and were probably introduced much earlier by émigrés fleeing the Revolution," says Goldstein. While Goldstein saw "Kiev cutlets" on most high-class restaurant menus when she began visiting the USSR in the 1970s—often served with a tableside flourish, where the waiter cuts the chicken open to avoid splattering the diner with butter—they weren't, and still aren't, something that people cook at home. "They were a lot more popular in the West than in the USSR until the late Soviet period," says Goldstein.
It's easy to see why a generation of Americans fell in love with the dish. They oozed not just butter, but sophistication. After becoming a staple of elite restaurant menus, chicken Kiev naturally made its way into cookbooks.
"In the past 20 years, chicken cutlets of various kinds have come into prominence. People who have eaten them in restaurants become curious about how they are prepared," wrote James Beard in 1976, in the introduction to his chicken Kiev recipe in James Beard's American Cookery. "So it is not unusual to find a housewife in any part of the country serving côtelettes Kiev with the greatest ease."
Beard acknowledged that the dish could also be found frozen, ready to reheat. And since carefully-wrought breaded and fried cutlets with filling are not the easiest endeavor for many home cooks, frozen food brands, such as Schwan's, have seized on the specialty.
Cookbook author Leah Koenig remembers the indulgent frozen meal vividly. "My family did not keep kosher, but there was something particularly (and intoxicatingly) transgressive-feeling about cutting into the crisped-up chicken and being greeted by a river of melted butter."
As with Shanghai-style soup dumplings, or xiao long bao, it seems a good idea to preface the diner about what to expect. Wrote Beard: "When they are served they are very hot, and the butter sometimes spurts when they are first cut into. Caution your guests!" Possible butter stains aside, chicken Kiev is guaranteed to impress at your next dinner party.
Create an herbaceous compound butter. While earlier recipes in American cookbooks (including Beard's) did not usually employ fresh herbs or any herbs sometimes, snips of fresh dill paired with creamy dairy is reminiscent of Russian and Ukrainian cooking. Lemon juice is added to brighten up the oozing butter sauce.
If you've ever made chicken parm, you know the drill: get out some plastic wrap and a meat mallet, and take out your stress on some boneless chicken breast. If you don't have the proper meat mallet, a wide, blunt end of something like a rolling pin can work.
Now that you've gone all medieval on that chicken, it's time for a more delicate touch. Remove your chilled compound butter from the fridge and its plastic wrap, and unwrap the pounded chicken breast, too. Once flattened, it should be relatively easy to roll up the log of butter and stay put.
You got this. Three shallow bowls: one for flour, one for beaten egg, and one for bread crumbs. Large, irregular fresh bread crumbs add a bit more texture and character to the resulting dish. So if you want to distinguish yourself from Stouffer's, let some French bread that's gone stale take a zip through the food processor. Then, immediately transfer your little chicken packages to a large skillet to crisp all over.
That was fun, right? Have yourself a glass of a crisp, dry white wine, perhaps a Gewürztraminer, to celebrate. No, it's not Ukrainian, but we're over that.
Ingredients
8 Tbsp. unsalted butter, at room temperature
1½ tsp. finely chopped fresh dill
2 tsp. fresh lemon juice
½ tsp. cayenne pepper
Kosher salt and freshly ground black pepper
4 skinless boneless chicken breast halves (about 6 oz. each)
4 cups fresh bread crumbs
1 tsp. dried thyme
1 cup all-purpose flour
3 eggs, beaten
Vegetable oil, for frying
Instructions
Step 1
In a medium bowl, stir together the butter, dill, lemon juice, and cayenne. Season with salt and pepper; mix well. Spread a 12-inch piece of plastic wrap on a work surface, and mound the butter onto one end, forming a 2-by-3-inch rectangle. Wrap the butter in the plastic, retaining the shape, and refrigerate for 2 hours.
Step 2
Place each chicken breast between 2 pieces of plastic wrap; using a mallet, pound them evenly to ¼-inch thickness. Season each chicken breast with salt and pepper. Retrieve the compound butter from the refrigerator, and cut lengthwise into 4 equal-size bars. Place 1 bar in the center of each breast. Fold the ends over the butter; roll up each piece tightly to enclose the butter. Secure with toothpicks, if desired.
Step 3
Whisk together bread crumbs, thyme, and 1 tsp. salt in a bowl and season generously with pepper. Put flour and eggs into 2 separate shallow dishes. Working with 1 chicken roll at a time, dredge in flour, then eggs, followed by bread crumbs. (Firmly press bread crumbs onto chicken; shake off excess.) Transfer to a sheet pan, cover, and refrigerate for 2 hours.
Step 4
In a large straight-sided skillet, add enough oil to reach ½ inch up the sides of the skillet. Heat over medium until the oil registers 325°F on a deep-fry thermometer. Add the chicken, then reduce the heat to medium-low; cook, turning once, until golden brown and cooked through, about 25 minutes. Using tongs, transfer to a paper towel-lined plate. Remove toothpicks, if using. Serve immediately.