Recipes
Flourless Chocolate Soufflé (Soufflé au Chocolat)
Light, fluffy, and decadent, this flourless French dessert is a little taste of heaven.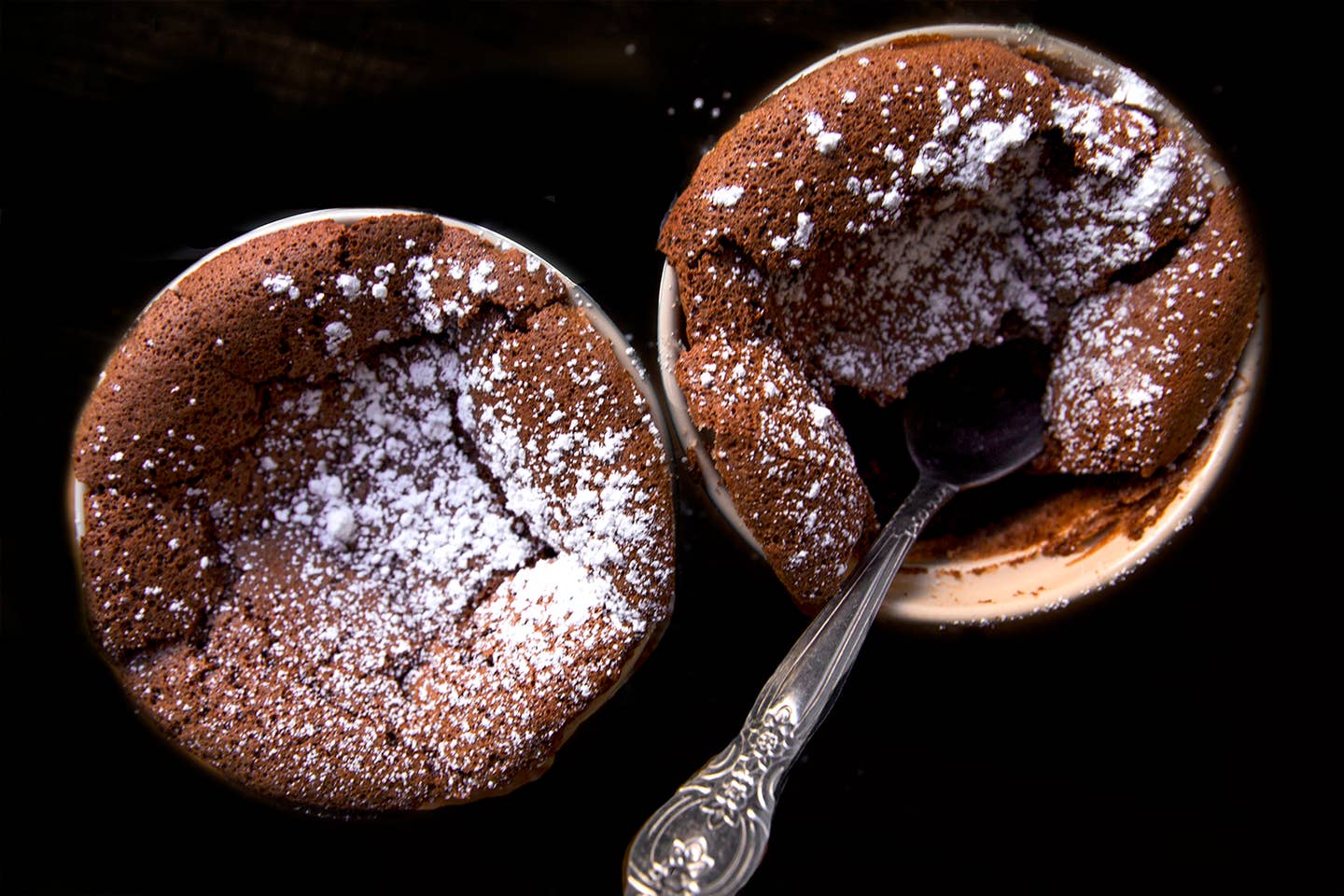 This flourless chocolate soufflé is more delicate and feather-light than more traditional, flour-stabilized versions. Use a high-quality semi-sweet chocolate, such as Valrhona, Callebaut, or Tcho in this recipe. For more flourless sweet treats, check out our favorite gluten-free dessert recipes here.
Ingredients
3 tbsp. milk
5 1⁄2 tbsp. sugar, plus additional for dusting soufflé dish
4 oz. semisweet chocolate, coarsely chopped
2 egg yolks
3 egg whites
Confectioners' sugar
Instructions
Step 1
Preheat oven to 375°. Place milk and 4 tbsp. sugar in a small saucepan and stir over medium-low heat until sugar dissolves, about 45 seconds. Stir in chocolate and cook until melted, 1–2 minutes. Transfer to a nonreactive bowl (glass or stainless steel), cool for 5 minutes, then beat in egg yolks.
Step 2
Beat egg whites in a nonreactive bowl until foamy, then sprinkle in remaining sugar, beating until stiff peaks form.
Step 3
Butter a small soufflé dish (2 1⁄2" deep, 6'' diameter; soufflé will not rise in a larger dish) or three to four smaller ramekins, then lightly dust with sugar. Gently mix one-third of the egg whites into chocolate mixture, then fold in remaining whites, one-third at a time. Do not overmix. Spoon batter into dish.
Step 4
Make sure oven rack is low enough to allow soufflé room to rise as much as 2'' above the dish. Bake until puffed, about 25 minutes. Dust with confectioners' sugar and serve immediately. (The chocolate soufflé will begin to deflate after about 2 minutes.)