Ethiopian Chicken Stew (Doro Wot)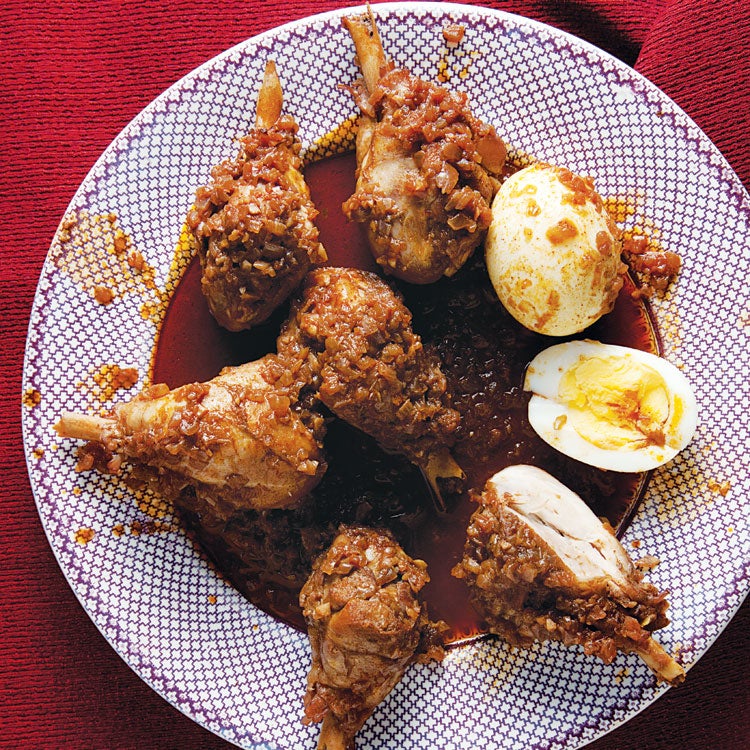 I was taught to cook doro wot, the long-cooking Ethiopian braised chicken dish, by a friend in Addis Ababa. First, we sweated onions in nit'r qibe (spiced butter) for nearly an hour. Then we added the chicken thighs and legs, the fantastic Berbere spices (a vibrant blend including chile, garlic, and ginger), and white meat to the pot, and waited some more. The stock went in last, and while that simmered, we boiled and peeled eggs, adding them just before serving. Now, when my wife's sisters come to town, the first thing we do together is prepare doro wot, and that's probably my favorite occasion on which to make this dish. It gives us plenty of time to catch up. —Marcus Samuelsson, author of Yes, Chef (Random House, 2012)
Doro Wot (Ethiopian Chicken Stew)
This long-cooking Ethiopian braised chicken dish is the first thing author Marcus Samuelsson prepares when his wife's sisters come to town.
Ingredients
4 tbsp. Ethiopian spiced butter (called nit'r qibe), ghee, or melted butter
2 1⁄2 tbsp. minced ginger
5 small red onions, finely chopped
5 cloves garlic, minced
3 tbsp. Ethiopian spice mix (called Berbere)
1 plum tomato, chopped
3⁄4 tsp. ground cardamom
8 chicken drumsticks
Kosher salt and freshly ground black pepper, to taste
4 hard-boiled eggs
Instructions
Heat spiced butter in a 6-qt. saucepan over low heat. Add ginger, onions, and garlic; cook, stirring, until soft, about 30 minutes. Add spice mixture and tomato; cook, stirring, until reduced and darkened, about 15 minutes. Add 4 cups of water, cardamom, and chicken, season with salt and pepper; boil. Reduce heat to medium-low; cook, covered, until chicken is done, about 1 hour. Transfer chicken to a plate; cook sauce until reduced, about 15 minutes. Add eggs and warm. Pour reduced sauce over chicken. Serve with rice or flatbread.