Ethiopian Spiced Butter (Nit'r Qibe)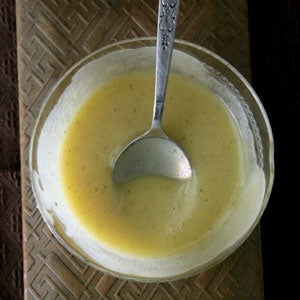 Ethiopian Spiced Butter (Nit'r Qibe)
This seasoned, clarified butter is a key component of many Ethiopian dishes.
Yield:
makes ABOUT 3/4 CUP
Ingredients
1⁄2 lb. (2 sticks) unsalted butter
1⁄4 tsp. ground black cardamom seeds
1⁄4 tsp. fenugreek powder
1⁄4 tsp. ground nigella seeds
Instructions
Heat butter in a small saucepan over medium-low heat, skimming the foam off the surface. Once the butter has begun to simmer gently, continue removing the foam until the butter is completely clear, about 30 minutes. Strain the butter through a fine sieve set over a bowl, leaving behind the milk solids at the bottom of the pan.
Stir cardamom seeds, fenugreek powder, and nigella seeds into the butter and mix well to combine. Cool and transfer to an airtight container; store in the refrigerator for up to 3 months. Use the nit'r qibe to make Doro Wot, Misr Wot, or Ayib Be Gomen.