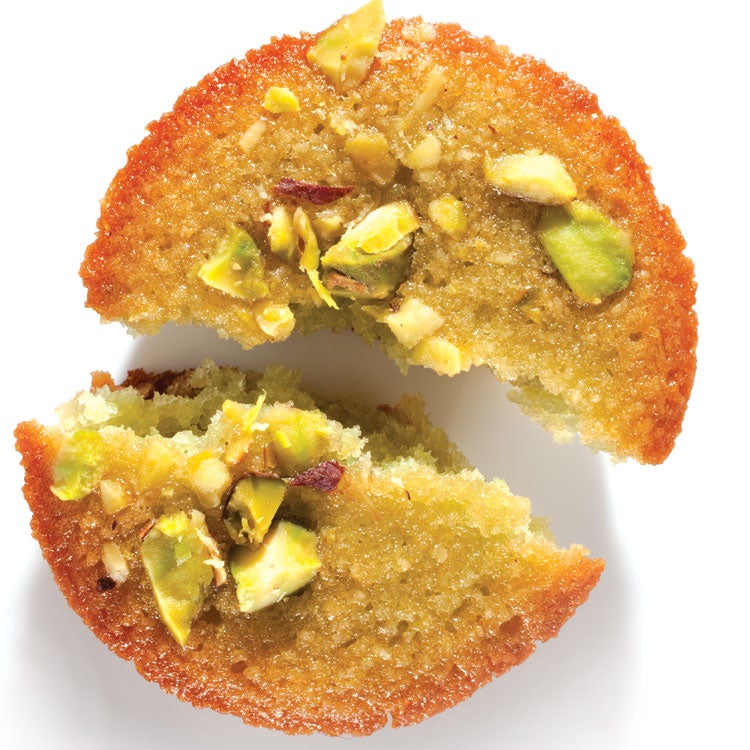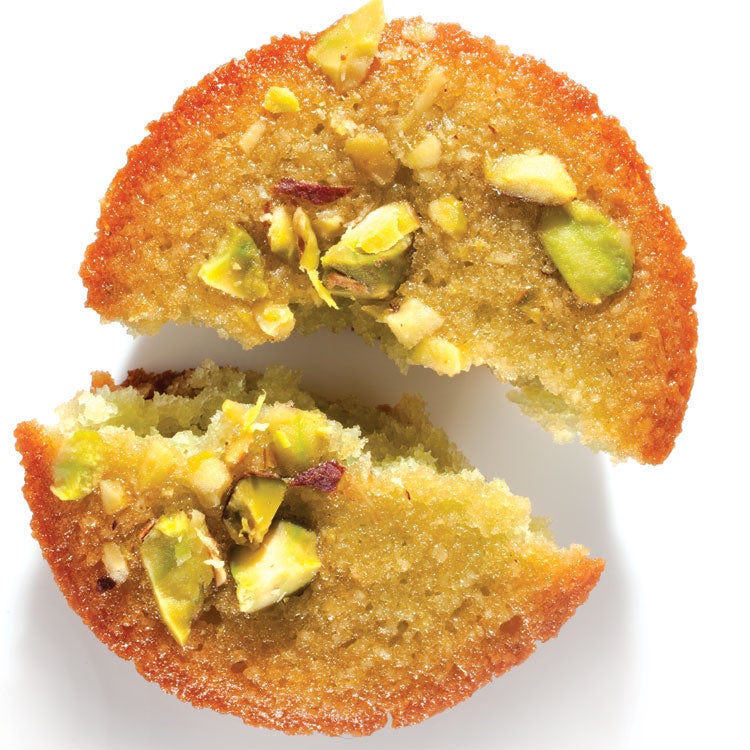 Thanks to Proust, when it comes to tea cakes, madeleines get all the love. But I prefer the heftier, more serious financier. The two-bite pastry is as rich as the name suggests: Its defining ingredients are almond flour and sweet butter, lightened with whipped egg whites. It's typically a simple rectangle to the madeleine's seashell, but despite its unassuming look, the financier is a small vessel of joy. One of the best I've tasted is this fine-crumbed version from Paris baker Eric Kayser, which he makes in several flavors, including the especially excellent, nut-rich pistachio; it melts in the mouth, a quiet luxury as indelible as any madeleine. —Gabriella Gershenson
Pistachio Financiers
This two-bite pistachio financier is as rich as the name suggests, boasting almond flour and sweet brown butter, lightened with whipped egg whites.
Yield:
makes about 7-dozen small cakes
Ingredients
8 tbsp. unsalted butter, plus more for pans
1⁄2 cup flour, plus more for pans
1⁄2 cup sugar
1⁄2 cup light brown sugar
1⁄2 tsp. kosher salt
4 egg whites
1⁄2 cup finely ground pistachios, plus 1/2 cup finely chopped
2 tbsp. finely ground almonds
1 tsp. baking powder
Instructions
Grease and flour 1 1⁄2"-round financier molds or mini-muffin pans; set aside. Heat butter in a 2-qt. saucepan over medium heat; cook, without stirring, until butter begins to brown, about 5 minutes. Pour through a fine strainer into a bowl; cool.
Whisk sugars, salt, and egg whites in a bowl until smooth. Add flour, ground pistachios, almonds, and baking powder; stir until combined. Add browned butter; stir until smooth. Refrigerate for 1 hour.
Heat oven to 350°. Pour about 1 tsp. batter into each mold; sprinkle with chopped pistachios, and bake until golden brown, about 16 minutes.