Fettuccine with Fava Beans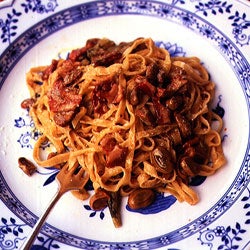 Fresh young fava beans signal the beginning of spring and all its glory. For best results, add hot pasta to fava beans just as they finish cooking.
Yield: serves 4-6
Ingredients
2 lb. fresh favas
1⁄2 head escarole, white stems broken off and discarded
1⁄4 cup extra-virgin olive oil
1 medium yellow onion, peeled and sliced
4 oz. pancetta, chopped
1 lb. dried fettuccine
Salt and freshly ground black pepper
Grated pecorino romano
Instructions
Shell favas, then blanch in boiling salted water for 2 minutes, drain, and slip off skins. (If favas are very young, as they often are in Italy, this step is not necessary.)
Wash leaves of escarole, pat dry, and tear into large pieces.
Heat oil in a large skillet over medium-high heat. Add onions and pancetta, and cook until pancetta begins to brown, about 7 minutes.
Meanwhile, begin cooking fettuccine in a large pot of boiling salted water. Add favas and escarole to pancetta, and cook until beans are tender, about 5 minutes.
When pasta is al dente, drain, reserving 1 cup pasta water. Add pasta and reserved pasta water to fava mixture. Toss over heat, season with salt and pepper, and add pecorino romano.