Fish Tacos with Pico de Gallo, Cabbage, and Lime Crema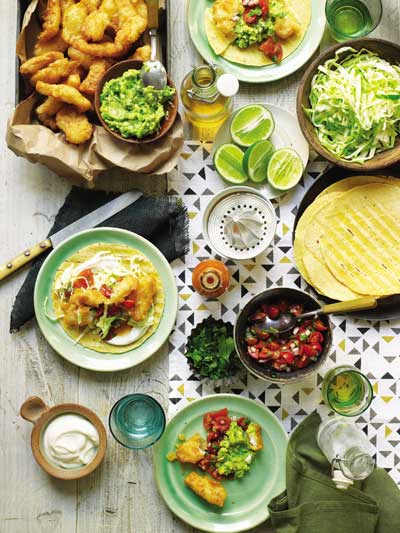 This recipe for fresh, light fish tacos is great for a crowd; while you fry the fish, put your dining companions to work making the cabbage, pico de gallo, lime crema, and guacamole. Excerpted from My Father's Daughter: Delicious, Easy Recipes Celebrating Family & Togetherness by Gwyneth Paltrow. Copyright (C) by Gwyneth Paltrow. Excerpted by permission of Grand Central Publishing.
Fish Tacos with Pico de Gallo, Cabbage, and Lime Crema
This recipe, from Gwyneth Paltrow, for fresh, light fish tacos topped with crunchy cabbage and easy pico de gallo is great for a crowd.
For the Salted Cabbage and Pico de Gallo
1⁄2 very small green cabbage, coarsely grated
1⁄2 lime, juiced, plus more to taste
1 pint grape tomatoes, quartered
1⁄2 small red onion, peeled and very finely diced
2 tbsp. finely chopped fresh cilantro
Maldon sea salt
For the Fish Tacos
Safflower or peanut oil, for frying
1 cup unbleached all-purpose flour
1 cup beer
Coarse salt
1⁄4 tsp. freshly ground pepper
1 1⁄2 lb. white fish fillets (cod, pollock, and haddock are all good choices—whatever's best that day), cut into finger-sized pieces (about 2″ long and 1/2″ thick
Corn tortillas
Instructions
Make the salted cabbage: Combine cabbage, the juice of 1⁄2 a lime and a pinch of Maldon sea salt; let it sit for 20 minutes. The cabbage will wilt slightly, but will retain its crunch.
Make the pico de gallo: Combine the tomatoes, onion, and cilantro in a bowl. Season to taste with salt and lime juice.
Make the fish tacos: Pour 2″ of safflower oil in a large pot or fill your deep-fat fryer. Heat to 350°F.
Meanwhile, combine the flour, beer, a pinch of salt, and the pepper together in a large bowl. Dredge the fish in the batter and gently place in the hot oil, being careful not to crowd the pot. Fry for 3–4 minutes, turning here and there, until nicely browned. Remove to a paper towel–lined plate, sprinkle with a little salt, and repeat with as many batches as necessary until you've cooked all your fish.
To serve, warm the corn tortillas on both sides in a skillet with just a bit of oil or butter. Serve a stack of them alongside all your fillings. To assemble, spread a spoonful of lime crema on a tortilla, lay 2 or 3 pieces of fried fish on top, scatter generously with pico de gallo, a bit of salted cabbage, and some guacamole. I like mine with Cholula hot sauce too.