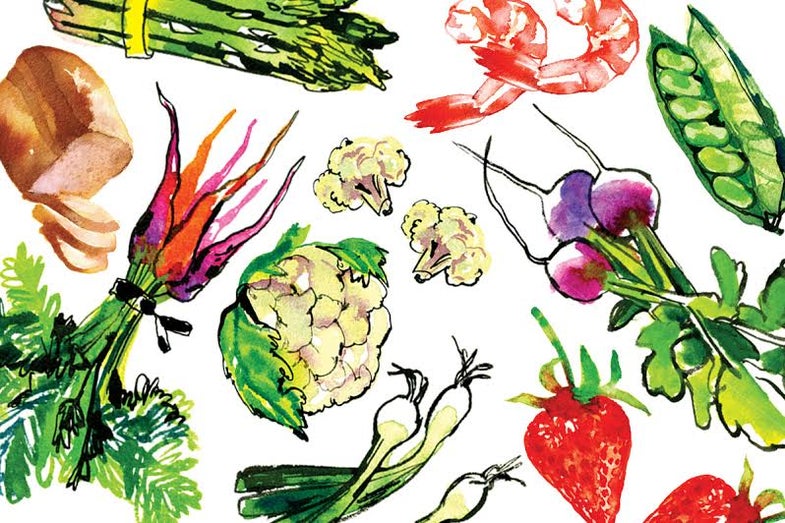 The batter in this recipe is adapted from one given for frying vegetables in Pellegrino Artusi's 19th-century Italian cookbook, The Art of Eating Well (Random House, 1996)._
Fried Fennel
The batter in this recipe is adapted from one given for frying vegetables in the 19th-century Italian cookbook, The Art of Eating Well (Random House, 1996).
Ingredients
1 3⁄4 cups flour
Salt
1 egg, separated
1 Tbsp. extra-virgin olive oil
2 Tbsp. white wine
4 medium fennel bulbs, trimmed and cut into wedges
2 cups corn oil
Instructions
Mix together 3⁄4 cup flour and a generous pinch of salt in a medium bowl, then make a well in the center of the flour. Lightly beat egg yolk, olive oil, and wine in a small bowl, then pour into well. Gradually incorporate flour into liquid, stirring with a wooden spoon. Slowly add cold water (about 12 tbsp.), stirring constantly, until batter is smooth but still thick. Cover and refrigerate for at least 2 hours, but no more than 12.
Bring a medium pot of salted water to a boil over high heat. Add fennel and cook until tender when pierced with a skewer, 5-10 minutes. Use a slotted spoon to transfer fennel to paper towels to drain. Set fennel aside to cool.
Whisk egg white in a medium mixing bowl until stiff (but not dry) peaks form, then fold into chilled batter with a rubber spatula. Heat corn oil in a large skillet over medium-high heat until hot but not smoking. Put remaining 1 cup flour in a medium bowl, dredge fennel wedges, and shake off excess flour. Dip fennel in batter to coat completely, then carefully put in hot oil and fry, turning once or twice, until crispy and golden, 1-2 minutes per side. Use a slotted spoon to transfer fennel to paper towels to drain. Sprinkle liberally with salt and serve hot.