Kibbeh (Beef and Bulgur Wheat Meatballs)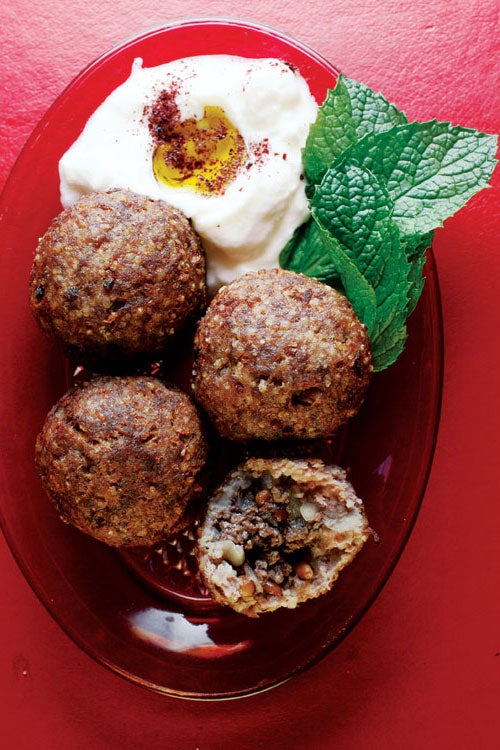 Middle Eastern kibbeh is a finely ground paste of bulgur, onions, and lamb or beef, which is formed into patties or balls, filled with coarsely ground, sweetly spiced meat, onions, and pine nuts, and deep-fried. In my family, no party is complete without a platter of my aunt Suad's kibbeh. If I ask her for the secret to her recipe, she'll only show me her hands. —Alia Yunis, from "Meat & Grain" (May 2005)
Kibbeh (Beef and Bulgur Wheat Meatballs)
A paste of bulgur, onions, and lamb is formed into balls, then stuffed with a coarsely ground mix of spiced meat, onions, and pine nuts, and deep-fried.
For the Filling
1 tbsp. olive oil, plus more to garnish
1 medium yellow onion, roughly chopped
8 oz. ground beef sirloin
1 tsp. kosher salt
1⁄4 tsp. ground allspice
1⁄4 tsp. ground cinnamon
1⁄4 cup pine nuts, toasted
1 tbsp. ground sumac, plus more to garnish
For the Shell
1 1⁄2 cups fine bulgur
1 tbsp. kosher salt
1⁄2 tsp. ground allspice
1⁄2 tsp. ground cinnamon
1⁄4 tsp. ground black pepper
1 small yellow onion, finely chopped
1 1⁄2 lb. lamb shoulder, trimmed of all fat and sinew
Canola oil, for frying
Plain yogurt, for serving
Mint leaves, to garnish
Instructions
For the filling: Heat oil in a 12″ skillet over medium heat. Add onion, and cook, stirring, until soft, about 10 minutes. Add beef, and cook, breaking it up with a wooden spoon, until no longer pink, about 7 minutes. Add salt, allspice, and cinnamon, and cook, stirring, until meat begins to brown, about 4 minutes more. Transfer to a bowl, stir in nuts and sumac, and let cool.
For the shell: Rinse bulgur, squeeze out excess water, and place in a large bowl. Add salt, allspice, cinnamon, pepper, and onion, and set aside. Grind lamb twice in a meat grinder, and add to bulgur mixture; knead mixture in bowl into a pliable paste, about 5 minutes. Cover bowl with a clean dish towel.
Shape about 1⁄4 cup of the bulgur-meat paste into a ball, moistening your hands with water as you work. Hold ball in one hand and insert index finger of other hand into center to form a hole. Shape ball into a thin-walled (about 1⁄4"-thick) oval with an opening at one end by molding ball around finger, gradually tapering closed end. Mend any cracks in shell with a moistened finger. Fill hole with 1 1⁄2 tbsp. of the filling. Moisten edges of opening, then gather edges together to seal. Gently form kibbeh into the shape of an egg, and keep moist under a clean dish towel. Repeat shaping with remaining filling and bulgur-meat paste to make 16 egg-shaped balls in all.
Pour oil to a depth of 2″ into a 6-qt. Dutch oven, and heat over medium heat until a deep-fry thermometer reads 375°. Working in batches, fry kibbeh until browned all over, about 4 minutes. Drain on paper towels. Transfer to a serving platter, and spoon some yogurt on the platter alongside the kibbeh. Drizzle oil over yogurt, and sprinkle with more sumac. Serve with mint leaves on the side.