Ham, Cream Cheese, and Red Pepper Jelly Canapés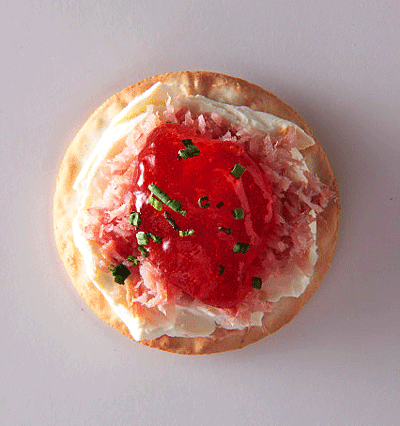 These ultra-simple, elegant snacks are served by home cooks in the American South. We recommend chopping the ham in a food processor.
Yield: makes 12
Ingredients
12 water crackers
4 tbsp. softened cream cheese
4 tbsp. finely chopped cooked ham
 (smoked or unsmoked)
2 tbsp. red pepper jelly
Finely chopped fresh chives for garnish
Instructions
Spread a water cracker with 1 tsp. softened cream cheese, sprinkle with 1 tsp. ham, and top with 1⁄2 tsp. red pepper jelly. Garnish with a pinch of finely chopped fresh chives. Repeat to make remaining canapés.