Oysters in Champagne Sauce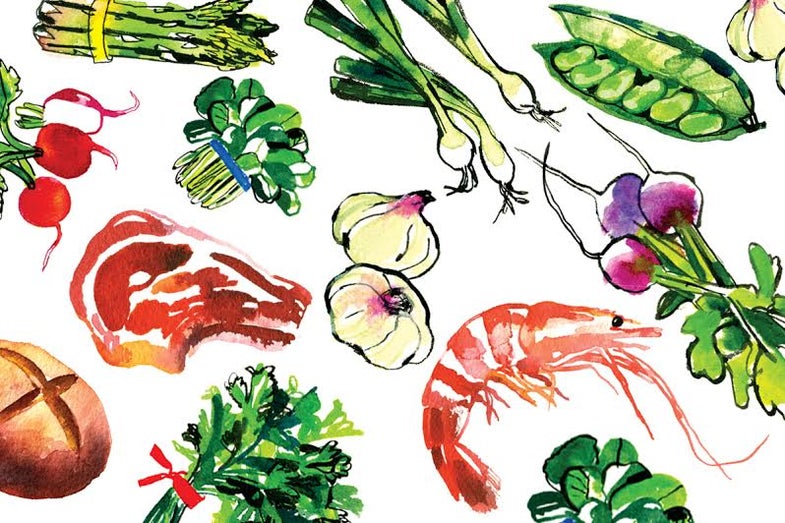 Oysters on the half shell are a French tradition, of course, but dishes like this one, from À Sousceyrac, are classically French, too.
Yield: serves 4-6
Ingredients
3⁄4 lb. fresh spinach
24 large oysters (about 3") such as bluepoint
Rock salt
3⁄4 cup champagne (or white wine)
3⁄4 cup fish stock
3⁄4 cup heavy cream
3 egg yolks
Salt and freshly ground white pepper
Instructions
Trim, wash, and blanch spinach. Squeeze dry; set aside. Shuck oysters, then place in a medium saucepan with oyster liquor, cover, and simmer over medium-low heat until oysters are opaque and slightly firm, 1-3 minutes. Remove oysters with a slotted spoon. Strain liquor through a fine sieve, return to pan, and set aside.
Wash and dry half the shells; discard the rest. Pour about 1⁄2" rock salt onto 4 or 6 ovenproof plates; divide shells between plates, arranging them in a circle in the salt on each plate.
Bring champagne to a boil in a small saucepan over medium-high heat. Cook until reduced by half, 8-10 minutes, then set aside to cool.
Add fish stock to oyster liquor. Bring to a boil over medium-high heat, cook until almost syrupy, 12-15 minutes, then add cream and cook, stirring, until reduced by two-thirds, 10-12 minutes.
Transfer reduced champagne to the top of a double boiler over simmering water over medium-low heat. Whisk in egg yolks and cook until thick and shiny, about 5 minutes. Remove from heat and fold in stock mixture. Season to taste with salt and pepper.
Preheat broiler. Spread a thin layer of spinach in each shell and top with 1 oyster and 1-2 tbsp. sauce. Broil for 3-5 minutes. Serve hot.