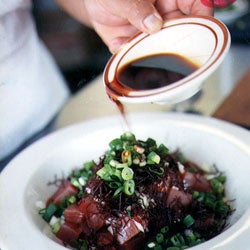 Poke, a popular Hawaiian dish, is a mixture of cubed raw fish mixed with seaweed, chiles, and kukui nuts. This island favorite is wonderful quickly flash-fried as well. Be sure to use only the freshest fish.
Poke
Made with the freshest and highest quality tuna, this dish is a Hawaiian favorite.
Ingredients
1 lb. fresh ahi tuna or other tuna
1 medium tomato, chopped
1 cup limu seaweed (or any dried or fresh seaweed), chopped
1⁄2 cup sweet onion, finely chopped
1 tsp. sesame oil
1⁄2 tsp. crushed red pepper
2 tbsp. shoyu (soy sauce)
Instructions
Chop tuna into 1⁄2″ cubes. Place in a large bowl and gently toss with tomatoes, seaweed, onions, oil, and red pepper. Add shoyu.
Serve garnished with a little fresh seaweed. Or, for fried poke, heat 1 tbsp. oil in a wok or skillet over high heat. Fry the poke over high heat for 2–3 minutes. Serve hot.