Recipes
Salat iz Yaits i Gribov (Russian Egg and Mushroom Salad)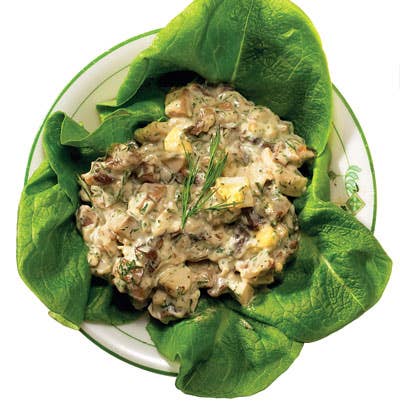 This easy Russian salad comes from Anya von Bremzen's _ Please to the Table: The Russian Cookbook_ (Workman, 1990). Serve it open-faced on thick sourdough rye with dill pickle spears. This recipe first appeared in our April 2011 special Sandwich Issue with the article Salad Days.
Ingredients
5 tbsp. canola oil
1 lb. white button mushrooms, roughly chopped
1⁄2 medium yellow onion, roughly chopped
1⁄3 cup finely chopped fresh dill
4 hard-boiled eggs, roughly chopped
3⁄4 cup mayonnaise
2 tbsp. Dijon mustard
1 tbsp. fresh lemon juice
Kosher salt and freshly ground black pepper, to taste
Instructions
Step 1
Heat 3 tbsp. oil in a 10″ skillet over medium-high heat, and add mushrooms; cook, stirring often, until browned, 14-16 minutes. Transfer to a large bowl and set aside. Heat remaining oil in skillet and add onion; cook, stirring often, until lightly caramelized, about 10 minutes. Transfer to bowl with mushrooms, along with dill and eggs.
Step 2
Whisk together mayonnaise, mustard, and lemon juice in a medium bowl. Add to mushroom mixture and toss until evenly combined; season with salt and pepper.