Salmon with Cabbage and Cider Vinegar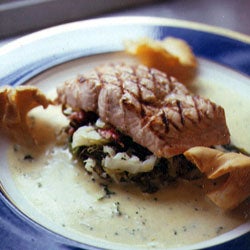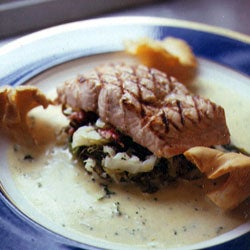 Cabbage is prepared in almost every Irish home. In this dish it combines nicely with vinegar to offset salmon's richness.
Yield: serves 4
Ingredients
1 small cabbage (about 1 lb.)
4 (6-oz.) salmon filets
1 tbsp. extra-virgin olive oil
Salt and freshly ground black pepper
1⁄4 lb. thick-cut bacon, diced
1⁄4 cup dry white wine
1⁄4 cup cider vinegar
1⁄4 cup <a href="https://www.saveur.com/article/recipes/fish-stock">fish/ stock</a> or water
1⁄2 cup heavy cream
1 tbsp. chopped fresh dill
1 tbsp. chopped fresh chives
Instructions
Using a mandoline or knife, shred cabbage 1⁄2″ thick.
Brush or rub both sides of salmon filets with olive oil and season with salt and pepper. Sear filets in a large skillet or grill pan over high heat, until evenly browned, about 2 minutes per side. Transfer to a plate and set aside. Wipe out pan with paper towels.
In the same pan, cook bacon over medium heat until crisp, about 10 minutes. Remove bacon, leaving fat in the pan. Drain bacon on paper towels and set aside. Add cabbage to the bacon fat and cook 5 minutes. Add wine, vinegar, stock, and cream. Cover and cook until cabbage is wilted, about 15 minutes. Reduce heat to low and place salmon filets in pan over wilted cabbage. Cover tightly and cook until salmon is firm to the touch, about 10 minutes.
To serve, spoon cabbage onto plates and sprinkle with the crisp bacon. Top cabbage with salmon filets and a spoonful of pan juices. Garnish with dill and chives.