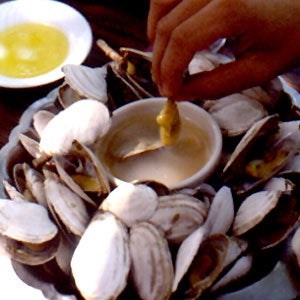 This is our version of "steamers".
Yield: serves 2
Ingredients
5 lb. scrubbed soaked soft-shell clams (see <a href="https://www.saveur.com/article/Techniques/The-Dirt-on-Cleaning-Clams">The/ Dirt on Cleaning Clams</a>)
1⁄4 lb. butter
Instructions
Add water to large stockpot fitted with a steamer basket to a depth of 1". Basket should sit at least 3" above water. Put soft-shell clams in basket, cover, and steam over high heat until shells open, about 10 minutes. Discard unopened clams.
Meanwhile, melt butter in a pan over low heat. Pour clear butter into 2 small bowls, discarding milky sediment. Transfer clams to a serving bowl and pour clam broth into 2 small bowls. To eat, pull clam out of shell by its siphon, swish in broth to remove any sand, then dip in butter. Drink remaining broth, avoiding sandy sediment.