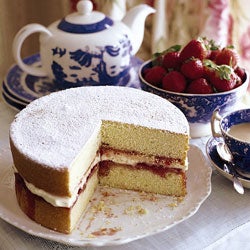 This delicious cake, popular at afternoon teas in England, was named in honor of Queen Victoria.
Yield: makes one 8-inch cake
Ingredients
3⁄4 lb. plus 1 tbsp. salted European-style high-fat butter, softened
3 cups plus 1 tbsp. self-rising cake flour
1 1⁄2 cups granulated sugar
4 eggs
1 1⁄4 cups double Devon cream
3⁄4 cup high-quality strawberry jam
Confectioners' sugar
Instructions
Preheat oven to 360º. Grease two 2″-deep x 8″-round cake pans with 1⁄2 tbsp. butter each. Dust each with 1⁄2 tbsp. flour; set aside.
Beat remaining butter in a large bowl with an electric mixer on high speed for 5 minutes. Add granulated sugar and beat until light and fluffy. Combine eggs and 6 tbsp. water in another bowl. Add half the egg mixture and half the flour to butter-sugar mixture. Beat well for 1-2 minutes. Add remaining egg mixture and flour; beat batter for 5 minutes.
Divide batter between prepared pans. Bake until a toothpick inserted in center of cakes comes out clean, 35-40 minutes. Invert cakes onto a rack, remove pans, and let cool completely.
Beat cream in a medium bowl until stiff. Put 1 cake layer on a cake plate, spread top with half the jam, then cover jam with the cream. Spread top of remaining cake layer with remaining jam and place it, jam side down, on top of cream. Dust cake with confectioners' sugar.