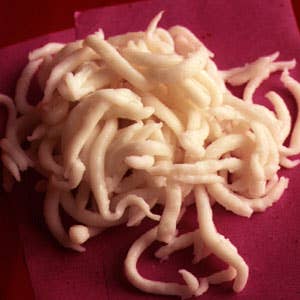 The noodle may have originated in China, and it may take a backseat to rice in most Asian culinary traditions—but it has a key place in:
JAPAN
Though ramen (wheat noodles) and mai-fun (rice vermicelli) are clearly Chinese in origin, the Japanese also have several noodle varieties that are very much their own: soba (buckwheat noodles), udon (thick white wheat noodles), somen (fine round wheat noodles, sometimes made with eggs, green tea powder, or shiso oil), and harusame (clear threads made with starch from potatoes and corn). Most dishes are simple, using delicate broths or dipping sauces to emphasize the noodle flavor.
KOREA
Chinese influences are evident in tang myon (potato starch threads, often stir-fried chao mian-style) and kal guksu (wheat noodles, often served in a hearty broth). (Myon is from Chinese mian; guksu is the Korean word for noodles.) A hint of Japan is apparent in another specialty: chewy naeng myon (buckwheat-potato starch noodles).
THAILAND
Ba mee (egg noodles) and kuaytaew (fresh rice noodles), though based on similar Chinese noodles, are used in curry soups and seasoned with fish sauces. In addition, sen mee (rice vermicelli) are deep-fried for mee krob, sen chan (flat rice noodles) are used in pad thai, and wun sen (bean threads) are often fried with vegetables.
VIETNAM
**Rice noodles like banh pho (the flat sticks used in pho, the favorite North Vietnamese soup), bun (rice vermicelli), and banh hoi (delicate rice vermicelli) predominate. Bun tau (bean threads), hu tieu dai (chewy flat tapioca starch noodles), and mi soi (stringy egg noodles) are also used. Unlike the Chinese, the Vietnamese rarely sauce, stir-fry, or season their noodles. Condiments are added at the table.