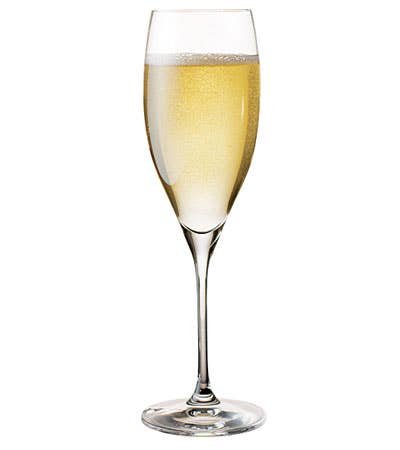 Drinks
4 Must-Try Sparkling Wines for 2012
Ring in 2012 with some high-quality bottles that don't break the budget
I've toasted with multiple bottles of Champagne at a dress-up house party in Brooklyn, and I've downed prosecco for courage before tobogganing down a ski lodge slope. But no matter where I wind up on New Year's Eve, my celebration always calls for a little sparkling wine. The evening doesn't feel festive until we break out the fluted glasses, add rapidly rising bubbles, and mix with giddy glee. Here are four reasonably-priced sparkling wines to share — wherever you wind up ringing in 2012.
As Lorenzo Zonin of the Zonin family described it, this is a "wine of pleasure." A simple, refreshing sparkler, the Zonin Prosecco has a delightful hint of green apple on the nose and palate, without any hint of sweetness that you so often find in other mass-produced Proseccos.
Contadi Castaldi Franciacorta Brut ($25)
Dry, clean, and crisp, this sparkling wine from Franciacorta in Italy's Lombardy region is made from a blend of Chardonnay, Pinot Noir, Pinot Gris, and Pinot Blanc. It is a light, young, fresh wine, characterized by notes of pear and stone fruit, with a little hint of spice on the finish.
Taittinger Cuvee Prestige Rose ($47)
This salmon-colored rose, a blend of Pinot Noir (70 percent) and Chardonnay (30 percent), is a very well-balanced bubbly. All of the components — the ripe red fruit, floral, and citrus notes; the slight flavor of yeast that is so characteristic of Champagnes; the steely minerality — come together elegantly, with no element overpowering another. Its delicate bubbles, or mousse, linger from start to the very long finish, braced by the wine's lovely acidity.
Gosset Grande Reserve ($60)
Gosset makes some of the most elegant, restrained Champagnes I've ever tasted. The house refrains from any use of malolactic fermentation, so it avoids the weight that oak might impart. The Grande Reserve is vibrant, its very delicate, airy mousse singing from the glass, and the lightness extends to the nose, with hints of marzipan and floral sweetness. The depth and maturity of this wine emerge on the tongue with full-bodied force, with flavors ranging from candied fruits to roasted chestnuts. Excellent for any traditional New Year's meal or elegant toast.