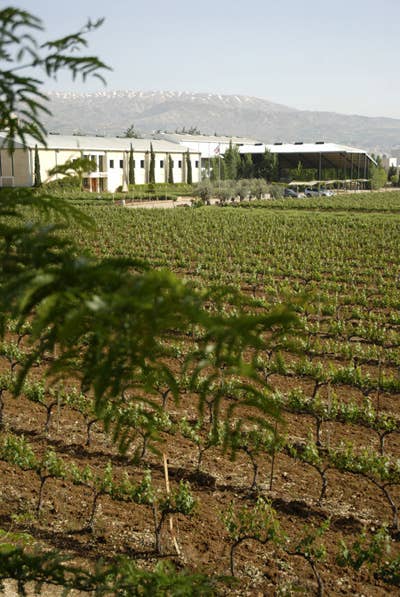 Drinks
Drinking the Wines of Lebanon
The world's oldest wine culture produces some of its strangest, most wonderful bottles
To be honest, for a long time I never really thought about Lebanese wines. In the shop where I used to work, we carried a few nominal bottles, but they'd never piqued my interest, and generally when I thought of great wines with deep heritages, my mind didn't jump to Lebanon. But as it turns out, the country's vineyards and winemaking have one of the longest-stretching viticultural histories on the planet, through Biblical times, the Roman Empire, and even into the Middle Ages — which is about when historical records began chronicling the practice of winemaking in Burgundy.
The wines of Lebanon are often compared to those of Bordeaux and the Rhone, perhaps due to the country's political and cultural relations with the French over the past century, but they are something uniquely their own. These so-called "Ancient World" wines are on the rise, and today, about 35 wineries are currently producing wine in and around Lebanon's fertile Bekaa Valley, whose winter rain and hot, summer sunshine help the grapes ripen easily.
In my search for Lebanon's best vintages, I turned to ilili, a Mediterranean restaurant in New York City, to explore the highlights of their wine list, which represents many of the Lebanese wines available in the US, including wines by Chateau Musar, Massaya, and Chateau Kefraya. As I tasted my way through their offerings, I realized that there's something really interesting happening in Lebanon, something familiar, but also intensely different. Each wine I smelled and tasted managed to surprise me in some new way. The whites had a crazy range of aromas, from passion fruit and pineapple to cut grass and crushed walnuts, but then on the palate, they were surprisingly racy and acidic, even sour.
Lebanon's reds seemed a bit more traditional at first, using blends of grapes that I was more accustomed to, but it became very clear that these winemakers were willing to experiment, which led to a wide range of styles: rich, powerful tannins and alcohol from the ripe fruit; potent spice from heavy use of cinsault; dark fruits and aromas from cider to earth, with an eye toward ageing in a world that wants its wines now. Each brand is making wines that speaks to its unique sense of place in the world.
Massaya Rose 2009 ($13)
This rose seems to be inspired by a southern Rhone style, with its gorgeous, deep salmon color. Hints of strawberries and candied watermelon are particularly apparent and this, coupled with its sharp acidity, makes it great for warm weather drinking.
Musar Jeune White 2009 ($21)
The entry wines from Chateau Musar are a great introduction to Lebanese wines at an affordable price, and are as playful as their funky labels. My favorite is their white, with a hint of honey on the nose and a powerfully citric acidity on the palate. Despite a high level of alcohol, it's young, fresh, and fruity.
** Hochar Pere et Fils 2003** ($28)
Hochar Pere et Fils is Musar's younger, mid-level wine, elegant with a long finish.
I love the smells of earth and leather — and even a wet smell like a forest floor — and these came together beautifully on the palate with notes of cedar, baking spice, and prunes. In truth, it's my favorite wine of the tasting: a fully developed bottle, ready for drinking now.
** Chateau Kefraya 2006** ($25)
I love the Chateau Kefraya's fresh black plum flavor, topped with a bit of spice. It's one of the few wines in this tasting where the alcohol seems a bit more subdued, making it smooth and easy to drink.
** Massaya Gold Reserve 2008** ($39)
The newest winery of these three, Massaya is making really good, really marketable wines. It's most famous for its Gold Reserve, and I can see why: with its dark black fruits and elegant black pepper notes, this wine is big, powerful, and modern. The 2008 is a little out of balance right now,
but a few more years in the bottle, and it will be as delicious as any Napa Valley Cabernet.
Chateau Musar (white) 2003 ($49)
Made from native Obaideh and Merwah grapes and aged for several years before release, this wine has a deep, rich honey color and smells like cooked apple pie with raisins and nuts; in contrast to the aroma, it's shockingly dry and acidic to the taste. It's strangely delicious, tasting slightly of calvados and marzipan—an exciting wine for the more daring palate.
Chateau Musar (red) 2002 ($52)
This is a wine with serious aging potential, meant to lie down for 15 years or more before being opened. Lighter in color and in body than any of the other reds, the Musar still has incredibly powerful tannins that are just beginning to mellow and meld into the delicate, plummy fruit that shows on the finish.
Comte de M 2003 ($65)
Also from Kefraya, the Comte de M is considered to be the more prestigious of their wines. Velvety and smooth, with strong tannins and spice, M had all of the qualities of a beautifully developing wine: tobacco, earth, spice, with jammy baked fruit and my favorite element, a little whiff of cooked broccoli on the end.