Friday Cocktails: Pomegranate Margarita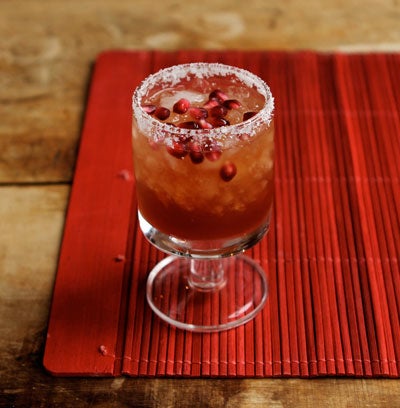 Most people I know think of margaritas as a cocktail best served in warm weather — there's something about the frosty glass and the salty, tart flavor that's immediately refreshing, even on the hottest of days. But I find myself wanting a margarita throughout the year, so I've been on an ongoing quest for the ultimate cold weather margarita. It all starts with the perfect fruit: citrus is great right now, but a grapefruit or blood orange margarita isn't that exciting to me anymore. But there at my local market, right next to the grapefruits, was the answer: beautiful barrels of pomegranates.
The famous fruit of temptation is exactly what I was looking for: an ideal dark ruby red color, perfectly in season in December, and full of all sorts of virtuous antioxidants (who doesn't want a healthy drink at cocktail hour?). Some pomegranate molasses — leftover from the glaze I swiped onto brussel sprouts at my Thanksgiving dinner — along with a hit of sweet-tart PAMA liqueur added the perfect amount of body, a pinch of salt and a hefty dose of lime juice brought the margarita flavors up to the forefront. With a clean blanco tequila, it's a perfect drink for a blustery December day — or, if you happen to be so lucky to be spending your holiday in the tropics, I imagine it's not that bad to sip on sitting on a sunny beach, either.