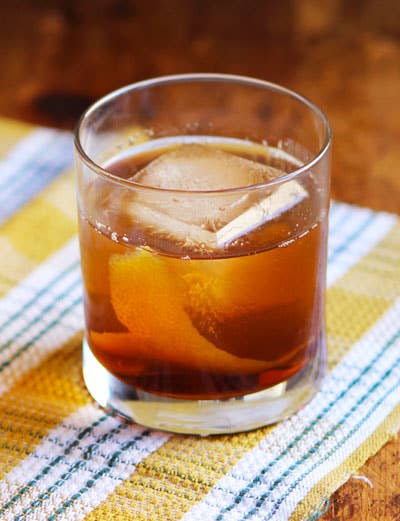 Drinks
Friday Cocktails: Ciderhouse Whiskey
I first came across boiled cider when I was browsing the shelves of one of the innumerable farm stands and sugar shacks that dot the hills and valleys of northwestern Massachusetts. I'm the kind of shopper who's unstoppably attracted to anything that falls into one of two categories: products with old fashioned-looking labels, and products I've never heard of before. Here, I found both: the glass bottle from Wood's Cider Mill has a tapered top and text-heavy label that together lend it a vaguely medicinal look, and I certainly hadn't heard of boiled cider before.
Turns out it's exactly what it sounds like: apple cider that's been boiled long enough to reduce it to a dark, deep liquid that's the approximate viscosity and sweetness of maple syrup. If you can't find it where you live, it's easy to make at home, set a gallon of cider to boil in a heavy-bottomed pot over a medium-low flame; check on it periodically over the course of about two hours, stirring to avoid scorching, until it's reduced to ⅛, or about 2 cups.
While some New Englanders pour their boiled cider over pancakes, or drizzle it on cheddar, to me there's nothing more perfect paired with the flavor of apple than good bourbon. And so was born the simple, beautiful Ciderhouse Whiskey: two parts good bourbon to one part cider syrup, with a twist of lemon zest to add both brightness and a hint of bitter, without diluting the cocktail's richness. Nothing's better on a cold evening than curling up in a warm blanket next to a crackling fire — but if you can't rustle up a fireplace, this cocktail is the next best thing.