Friday Cocktails: The Dirty Mary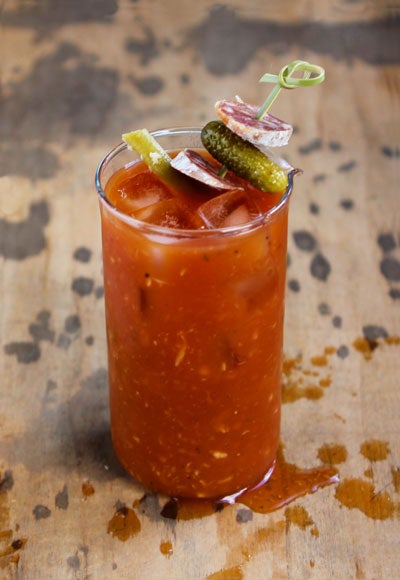 I've been in love with Bloody Marys since well before I was even legally allowed to drink them. On a trip to visit my grandmother in San Antonio, Texas, when I was the ripe old age of sixteen, my dad gave me that first fateful sip: more like a meal than a beverage, with its thick tomato juice, and pimento-stuffed olive garnish, I couldn't believe that an alcoholic drink could be so delicious.
Over the years, the Bloody Mary has become my go-to cocktail. For many people they're just a Sunday brunch drink, but I've been known to sip a Mary instead of wine at dinner, or instead of beer at bars. The Dirty Mary is a particularly briny, sour variation that came as a result of my other great gastronomic obsession: all things pickled. For this acerbic drink, I start with pickle-infused vodka (an idea I picked up from a seedy dive bar in middle-of-nowhere Colorado, though lately I've been seeing it crop up at bars here in New York, too) and a homemade pickled green bean. A liberal dose of fresh horseradish and a sweet, meaty cacciatorini garnish push it over the edge, turning it into an unabashedly rich, salty, savory drink that's good any time of day — not just brunch.