Friday Cocktails: Peanut Butter Bourbon Milkshake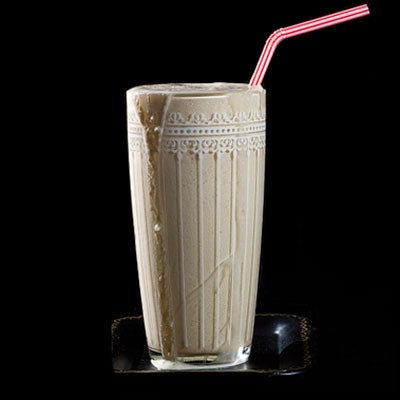 When sitting in a diner booth, there's no question in my mind: a milkshake must be had. And if there are french fries on the menu, like the perfectly-seasoned, crispy-exteriored pile that landed on my plate at Skillet Diner during a recent visit to Seattle, then even more reason for the milkshake—hot salty fries and a cold creamy shake are my idea of a match made in heaven. Usually I go for vanilla, but the shake that caught my eye on Skillet's menu was the flavor they call "Grown-Up": a thick peanut butter shake generously spiked with bourbon, and rounded off with maple syrup.
Since returning to New York, I've been re-creating Skillet's milkshake at home. The key lies in using chunky peanut butter, instead of smooth: the little bits of salty peanut lend texture to each creamy bit of the shake. It's versatile, too: after making a larger batch than I could finish one night, I poured the remainder into my ice pop maker and discovered that the mixture makes equally good boozy frozen pops.